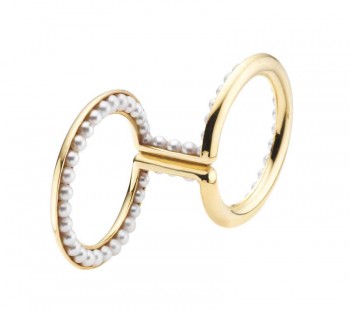 Designer Melanie Georgacopoulos is by nature a storyteller. With a background in sculpture she works with materials in a new way to release their potential and open the viewer up to new interpretations. Given this method, working with pearls is a natural choice as their organic construction means each one has an individual beauty.
In Melanie's work the paradoxical, intriguing nature of the pearl remains at the core of every piece, whilst the aesthetic remains simple, structured and timeless. She reworks a traditional material with fresh eyes to infuse it with new life and give it modern relevance.
Her collections challenge existing preconceptions of classic pearl jewellery but also some of the basic shapes and forms of jewellery design itself. It is this unique approach which has seen her show to great acclaim at the Rock Vault initiative at the heart of London Fashion Week since its inception, as well as presenting her collections regularly at Paris Fashion Week and most recently at Vegas Couture.
Melanie has gained renown for her work with pearls, this has led to M/G Tasaki, her new directional collection produced in exclusive collaboration with the fine Japanese Jewellery company.
The collection is renewed seasonally and marries beautifully Melanie's flair to cross design boundaries with Tasaki's world-renowned quality craftsmanship. With Tasaki reaching their 60th Anniversary this year, it seems like the perfect timing to use Melanie's unique work with pearls to celebrate their rich heritage and present their medium to a modern audience.