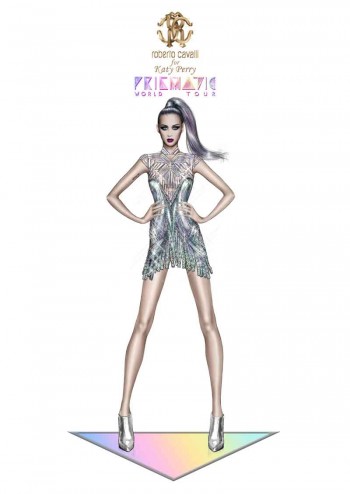 NEW YORK, May 5, 2014/— In two days time, Katy Perry will be on stage in Belfast wearing Roberto Cavalli looks that were specifically created for her 'Prismatic World Tour'.
The three looks, 'Kaleidoscope Brodè', 'Crocodile Scarab' and 'Perfecto' were designed with both Katy Perry's music and fashion style in mind.
Look 1 is the 'Kaleidoscope Brodè' dress which is entirely embroidered in prism crystals, sequins and iridescent micro baguettes. The dress is highlighted by a tulle plastron with patchwork motifs made in leather for a holographic mirror effect which creates tridimensional reflections. The movements are emphasized by a play of fringes.
Look 2 is the 'Crocodile Scarab' silhouette is featured on the pleated skirt and the micro top. The multi-reflection effect and the motifs are created thanks to mirrored multicolor leather with a crocodile graphic applied on a multilayer light moussoline silk lamé and alternated by a thin layer of silver powder.
Look 3 is the mini 'Perfecto' biker jacket is created in printed leather with a holographic reptile motif.
The tour will begin Wednesday May 7th 2014 in Belfast.