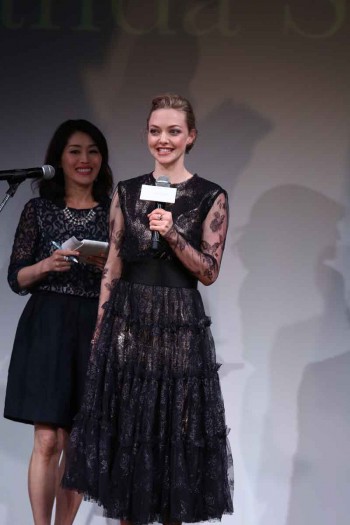 TOKYO, Jun 8, 2014/ — Monday, Jun 2nd, Amanda Seyfried (clé de peau BEAUTÉ Muse) attended the clé de peau BEAUTÉ global press announcement event held in Tokyo.
As the muse of clé de peau BEAUTÉ, Amanda Seyfried had the honor of announcing the release of two new products from the Japanese beauty brand.
The two latest offerings from clé de peau BEAUTÉ are color makeup that features a mysterious "beauty of a gaze," more specifically a "drama of the eyes", which is completed by taking on the infinite brilliance of the heavens; and a base makeup created from a new concept of "staging the skin", in other words "putting the skin in the lead role."
"Today we would like to introduce to you the appeal of Synactif, which brings to life a "vibrant beauty which is only possible through skin purification and outstanding science," said Keiichi Fujii, General Manager of clé de peau BEAUTÉ.
While presenting the two new products, Amanda Seyfried became the subject of an impromptu interview:
-What is your impression of Japan and Tokyo, after coming back here again?
"I love Japanese culture. It is so refined and beautiful. Japanese women have such beautiful skin. The women in Tokyo, in particular, are so fashionable, They give me a lot of useful hints and ideas. It's a shame I can't stay here longer this time, but I always wish I had more opportunities to learn about all the wonderful aspects of Japan, and about its traditions. For place, of course I like Tokyo. Recently, I have been interested in Kyoto. I have a particular respect for its beautiful streets, history and culture. I also love Japanese food."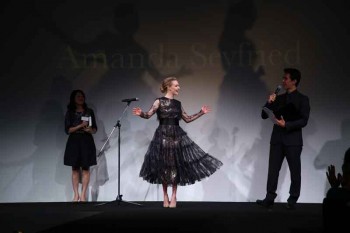 -What do you think is the key point of your makeup today?
"I had my look made up with clé de peau BEAUTÉ's eyeshadow for autumn/winter this year, and the new foundation. I think it helped me enhance the charm of mature woman. I love it."
-What is the secret to keeping your beauty?
"I always stay very physically active, I drink a lot of water, and, more than anything, I use clé de peau BEAUTÉ every day! I think that being happy and fulfilled is the most vital thing to bringing out women's beauty. For me, what is most important is the time I spend with my family and my dog, Finn. That, and always taking on new challenges."