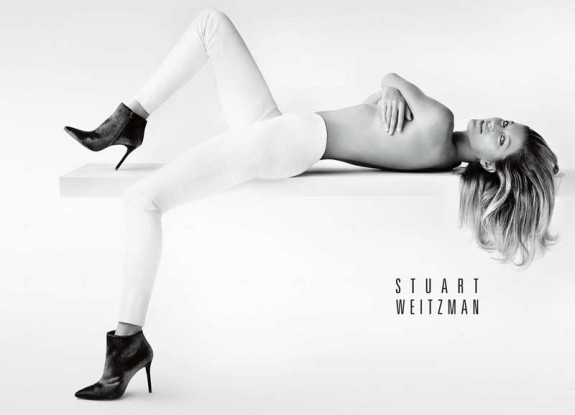 NEW YORK, Jun 18, 2014/ — After a highly successful H&M campaign as the Swedish retailer's face and voice this summer, Gisele Bundchen will headline the Stuart Weitzman Fall 2014 advertising campaign.
Shot by renowned fashion photographer Mario Testino, the stunning black-and-white images embrace a distinctively minimalist aesthetic while manifesting the intimate relationship between a woman and her shoes.
With her lithe physique, bronzed skin and tousled golden locks, Gisele personifies the confidence, empowerment, beauty and ease women feel the moment they slip into their Stuart Weitzman shoes. Gisele can also be the fashion forward trendsetter to sophisticated tomboy to multi-tasking mom to the quintessential girl-next-door – qualities of the multi-faceted Stuart Weitzman woman.
In the world of Stuart Weitzman, "sexy" means being comfortable and confident in your own skin, and the campaign captures this essence in a relaxed, effortless, chic way while clearly showcasing the new season's essential silhouettes.
With a spotlight on Weitzman's trademark boots, in-demand trends including up-to-the- knee boots, combat boots and pointy-toe stiletto ankle boots take center stage. The iconic 5050 boot also gets updated with a '60s-inspired Mod block heel and a strong stacked high heel.
The international advertising campaign will launch in the United States, Italy, France, England, Dubai, Germany, Spain and Asia. Outdoor advertising (billboards and kiosks) will run in Los Angeles, New York, Milan, Paris and Hong Kong.
A behind-the-scenes video and additional creative content will be featured on www.stuartweitzman.com and in Stuart Weitzman boutiques worldwide.