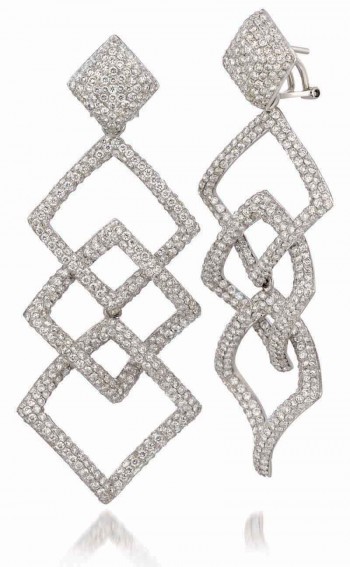 The Le Vian name has been associated with the world's finest jewelry since the 15th Century. Tasked with safeguarding the incomparable 186 Carat Kohinoor Diamond by the Shah of Persia, the family has since built an enviable reputation as jewelers of the highest caliber.
In 1950, the late Abdulrahim Ephraim LeVian emigrated from Persia and founded the American division of the Le Vian Company. He was instrumental in reviving a lost art known as "invisible setting" which required highly skilled craftsmanship. His passion for colored gemstones resonated through the industry in the 70's, earning him the moniker "King of Turquoise".
Never one to rest, he went on to pioneer the use of Tanzanite in fine jewelry -establishing the company as a world leader in Tanzanite. He was a revered leader in the jewelry industry both in the United States and abroad, with many fine jewelry houses gratefully acknowledging the results of his life's work.
Introduced to the jewelry making craft at a young age, successive generations of Le Vian artisans built the company's reputation by developing new techniques and experimenting with new materials. A fondness for patterns inspired by nature became apparent in Le Vian jewelry around 1780, a tradition that has flourished and is alive and well today in jewelry the company refers to as pieces from a "forever garden"
Le Vian Jewelers is now under the guidance of son, Eddie LeVian, who joined his father and the company in1978. Eddie has continued with the family traditions of creating one-of-a-kind pieces that are both contemporary and timeless, fine jewelry designs that are in essence modern day heirlooms.
Today, Le Vian fine jewelry is loved and collected by a diverse clientele, from young couples buying first rings, to billionaire royals investing in high-carat statement pieces. One thing all clients of Le Vian have in common is a passion for beautiful, expertly made fine jewelry. This passion is what drives the Le Vian company today,building upon a 500 year legacy of artistry and expertise
Le Vian is becoming the top choice among some of Hollywood's hottest names, such as Halle Berry, Jennifer Lopez, Sofia Vergara, Hilary Swank, and Rachel McAdams.
For more information, please visit www.levian.com