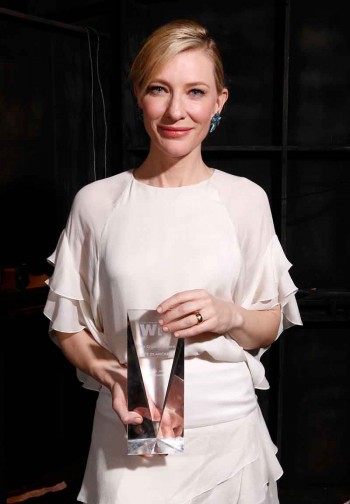 LOS ANGELES, Jun 12, 2014/ — Last night, Women In Film, Los Angeles (WIF) celebrated extraordinary talent and achievement of Cate Blanchett, Kerry Washington, Jennifer Lee, Eva Longoria and Rose Byrne with the 2014 Crystal + Lucy Awards, themed Exceptional.
The evening, hosted by Tracee Ellis Ross and sponsored by Presenting Sponsor MaxMara, and Premiere Sponsors BMW, Perrier-Jouët, and South Coast Plaza raised funds and awareness for WIF and its many educational and philanthropic programs.
Established in 1977, the Crystal Awards honors outstanding women who, through their endurance and the excellence of their work, have helped to expand the role of women within the entertainment industry.
The 2014 Crystal Award for Excellence in Film was awarded to Cate Blanchett. Clad in a Chloé silk georgette blouse and skirt from Fall/Winter 2014 collection, Cate Blanchett accepted the award from presenter Laura Dern who praised Cate her for being exceptional and her commitment to her craft and the generosity in which [she] has shared the exploration of her work with her audience is the ultimate gift worth endless applause.
Shonda Rhimes presented Kerry Washington with WIF's The Lucy Award for Excellence in Television and praised her for being the first African American woman in 40 years to star in a network drama.
Wearing Max Mara Sportmax on her first public event as a new mom, Kerry Washington graciously accepted her award as her husband, Nnamdi Asomugha, proudly watched from their table.
The Lucy Awards were founded in 1994 presented in association with the Lucille Ball Estate. Named after Hollywood legend Lucille Ball, the Lucy Awards are given to recognize women and men and their creative works that exemplify the extraordinary accomplishments she embodied; whose excellence and innovation have enhanced the perception of women through the medium of television.
Jennifer Lee in Max Mara was presented The Dorothy Arzner Directors Award® by Kristen Bell who was also clad in Max Mara.
Named after Dorothy Arzner, the first female member of the Directors Guild of America, Dorothy Arzner Directors Award® was established to recognize the important role women directors play in the film and television industries.
Eva Longoria, dressed in Max Mara accepted The Norma Zarky Humanitarian Award® from Lake Bell who was also wearing Max Mara. During Eva Longoria's acceptance speech, she praised each of her fellow honorees including Jennifer Lee (Writer/Directed, Frozen) for "inspiring us to Let It Go."
The Norma Zarky Humanitarian Award® was established in 1979 and is presented to individuals who, like Ms. Zarky herself, have demonstrated enlightened support for the advancement of equal opportunity and devotion to the improvement of the human condition.
The 2014 Women In Film Max Mara Face of the Future® was presented to Rose Byrne by Nicola Maramotti, Global Brand Ambassador for MaxMara. Both women were wardrobed by Max Mara for the evening.
During Rose Byrne's acceptance speech, she thanked Nicola Maramotti of Max Mara for presenting the 2014 Women In Film Max Mara Face of the Future Award to her and said "especially for referring me as 'refined'. Clearly she has not seen Neighbors!"
The Women In Film Max Mara Face of the Future Award®, inaugurated at Women In Film's 2006 Crystal + Lucy Awards®, is given to an actress who is experiencing a turning point in her career through her work in the film and television industries and through her contributions to the community at large, in recognition of her outstanding achievements and her embodiment of style and grace.
The evening also celebrated Bonnie Spence, Chair Emeritus, and Judith Parker Harris, Founding Chair, of the WIF PSA Production Program (The PSA Program) with The Founder's Award ("The Tichi") in recognition of their distinguished service to WIF.