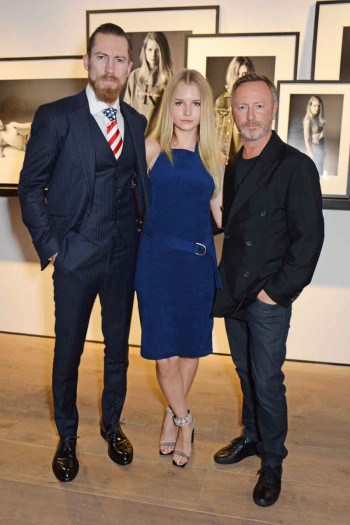 NEW YORK and LONDON, Jul 18, 2014/ — As announced, Calvin Klein Jeans and mytheresa.com is creating a special edition, women's capsule collection – "Calvin Klein Jeans x mytheresa.com The Re-Issue Project".
Now on sale exclusively on mytheresa.com, the collection was celebrated last night in London in an invitation-only cocktail party which was held at the Rosenfeld Porcini Gallery, located in Fitzrovia in Central London, and featured a DJ set by Misty Rabbit.
Model Lottie Moss and photographer Michael Avedon were both in attendance at the event, and Ms. Moss was wardrobed in Calvin Klein Collection.
Calvin Klein Jeans Global Creative Director Kevin Carrigan and mytheresa.com Buying Director Justin O'Shea were in also in attendance, along with the following guests who were wardrobed by the brand: models Daisy Lowe, Leah Weller and Tallulah Harlech, musician Mike Skinner, and popular bloggers Betty Autier of Le Blog de Betty, Gala Gonzalez of amlul, Eleonora Carisi of JouJouVilleroy, and Hanneli Mustaparta of Hanneli.com, who is also a contributor to Calvin Klein's official social media platforms.
Other guests of note in attendance included Finn Jones, Ella Eyre, Matthew Healy of The 1975 and Amber Le Bon.
Ms. Moss – sister of longtime Calvin Klein muse Kate Moss – was photographed by Mr. Avedon in a series of portraits wearing key pieces from the line to support the exclusive capsule and capture its retrospective, yet modern feel.
Enhancing the full-circle nature of the project, Mr. Avedon is the grandson of renowned photographer Richard Avedon, who shot the groundbreaking 1981 Calvin Klein Jeans campaign featuring Brooke Shields uttering the famous tagline, "You want to know what comes between me and my Calvins? Nothing."
Mytheresa.com is one of the world's leading online stores for luxury fashion, seasonally offering an edit of pieces that suit mytheresa.com's philosophy of elegance and timeless style, that are modern and right on trend.
Launched in 2006, mytheresa.com now features more than 180 of the world's leading top international designers, edited and curated carefully to give the definitive wardrobe of the season.
EDITORIAL CREDIT: Calvin Klein Jeans x mytheresa.com The Re-Issue Project
IMAGE CREDIT: © 2014 Dave Benett/Getty Images