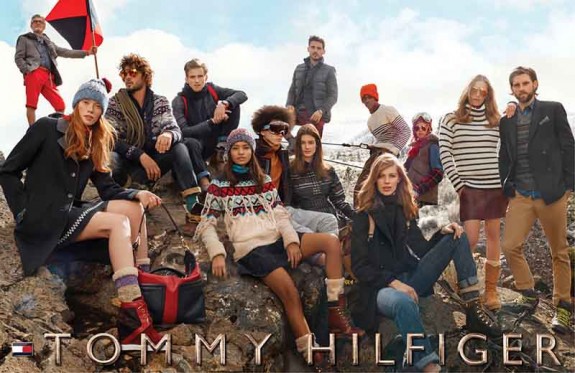 NEW YORK, Jul 28, 2014/ — With an irreverent twist to adventurous pursuits, the Tommy Hilfiger Fall 2014 global ad campaign with the provocative title, "la víe en rõpe" broke this July with a multi-media program through an online, print, outdoor and social media presence.
Photographed in Lake Tahoe, with hair by Malcolm Edwards and makeup by Mark Carrasquillo, the campaign stars "The Hilfigers" will appear in September 2014 issues, with full print ads running globally in key fashion publications such as Vanity Fair, Vogue, InStyle, ELLE, GQ, and Esquire; outdoor campaigns will appear in New York City and Los Angeles, key European cities such as London, Paris and Milan, and top districts in Hong Kong.
This season, "The Hilfigers" is composed of a cast of eclectic characters from past campaigns: Arthur Kulkov, Julia Hafstrom, Bernard Fouquet, RJ King, Marlon Teixeira, and Luke Willett.
New additions to the family include Malaika Firth, Ophelie Guillermand, Lexi Boling, Emma Balfour, RJ Rogenski, Conrad Bromfield, Abiah Hostvedt, and a St. Bernard named Buck.
In the campaigm, The Hilfigers – the beloved all-American family at the heart of the brand's marketing strategy – make the trek to Lake Tahoe, where California and Nevada meet, to establish a preppy outpost as the eclectic group of characters conquer the great outdoors.
All the rugged references are here: high-peak parkas, snowlines of shearling, blazers and bungee cords; burnished sunset plaids show up in shirtdresses, leather jackets and boots. And in case of emergencies, there'll be a St. Bernard.
"This season, The Hilfigers are back and more adventurous than ever," said Tommy Hilfiger. "In the Fall 2014 Collection, we updated traditional hiking and outdoor gear for modern city life. This collection has a unique blend of technical mountaineering references and traditional plaids developed in collaboration with iconic British wool mill Abraham Moon."
The Hilfigers campaign is the ultimate personification of the preppy heritage and irreverent spirit of the Tommy Hilfiger brand. The campaign is photographed by Craig McDean, styled by Karl Templer and creatively directed by Trey Laird of Laird + Partners.
To further complement the la víe en rõpe campaign aesthetic, Tommy Hilfiger is introducing a new brass concept logo design. The bespoke aged brass finish gives a sleek, sophisticated update to Tommy Hilfiger's iconic logo and its classic red, white and blue color palette.
The new logo creative will appear on the Fall 2014 campaign and all its associated materials, from in-store signage to out of home advertisements.