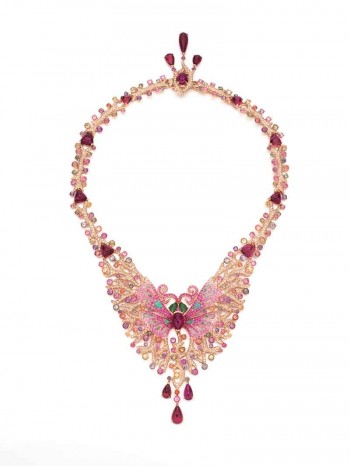 "Art is neither a 'thing' nor a 'thought' simply defined by a few adjectives. I believe the meaning behind any work of art is up to the interpretation of the beholder. It may be an emotion, an atmosphere, a melody, or a memory that a piece evokes. Bounding my work with any narrow categorization or precise definition dilutes the sheer essence of my pieces," said Wendy Yue in 2011 describing her work.
Wendy Yue, a Hong Kong native who has spent most of her life travelling, dreaming, and creating, is not quite the flamboyant parallel to her whimsical designs—to one's surprise. A mysterious and private person, Yues eeks to express herself through her jewelry and allow her designs to speak for themselves.
At a young age, Yue left her hometown to study language and culture in Vienna, which enabled her to travel across Europe and hence began her journey in self-discovery. Her infinite curiosity in nature and beyond prompted her beginnings in jewelry design. She became madly fascinated with wildlife and the magical bond it created between nature and her existence. Hoping to preserve her memories and to share her revelations, Yuebegan to record her travels with captioned colored-pencil drawings. The idea of creating jewelry to be worn daily that would remind her of her travels seemed like the most enduring monument in remembrance of the bits and pieces of her expeditions. And so it began.
Yue's atelier was established in 1998 and has since become one of the most renowned Hong Kong jewelry design firms, notably for staying true to its bold and daring philosophy. After years of growth and success, including private collaborations with various high end labels, Yue decided it was time to create her own label and take her business to a whole new level.
The Wendy Yue philosophy is simple: boundless, fantastical, and ever-evolving beauty. From a sapphire studded frog sprawling on aquamarine and jade swamps to a floral cameo entangled by diamond-set serpents, Wendy Yue has established itself as an avant-garde of haute couture jewelry with its elegant yet exotic designs, gaining international recognition from dignitaries and collectors around theworld.
Wendy Yue pieces are one-of-a-kind, meticulously crafted, and in limited edition, carried by the finest boutiques across Europe and the United States.