LOS ANGELES, August 17, 2014/ FW/ — Entitled 'A Glimpse Behind Pangea Swim', Pangea Swimwear is a men's swimwear line created for the worldly gentleman, embodying the notion that there is always more to discover, more to do, more to see.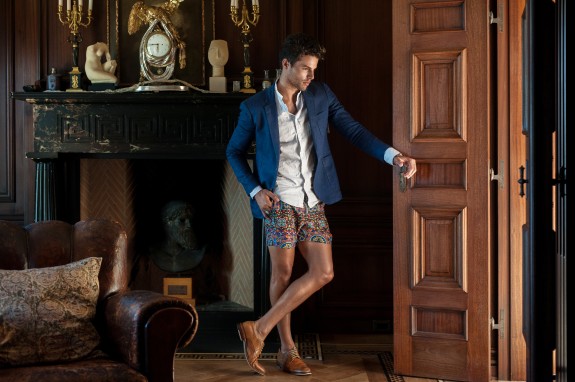 Fashion Windows editor Darby Radcliff catches up with the team behind Pangea Swimwear to discuss their design philosophy and inspiration behind their collection.
What was the theme for your current collection for Pangea Swim?
PANGEA draws inspiration from our own travels to some of the most exotic and farthest-flung locations around the world for our prints, and delivers them in highly-tailored fits that make for a polished look on-and-off the beach.
2015's collection is a journey through The Middle Ages. I loved the attention to detail in all textiles and art of that time period and wanted to create new prints that could remain colorful, but still be extremely refined. It all started when we fell upon the infamous "Carta Marina" map, which took over 12 years to complete. Finished in 1539 by one of the most famous cartographers of all time, Olaus Magnus, this map is simply incredible and showcases the widespread belief at that time of sea monsters. It pays homage to how new, exciting and even daring travel was at that time, which we hope to showcase is no different from today.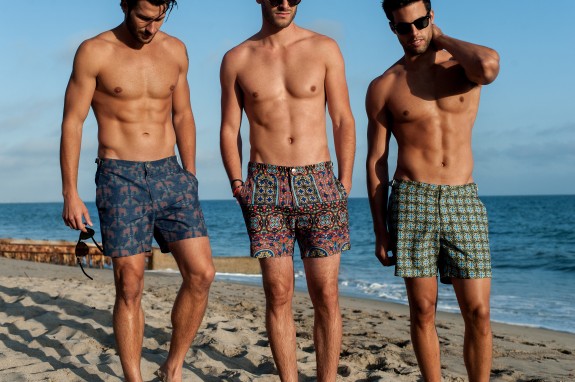 What were your favorite materials and hues used in your current collection?
For me, I love color. I try to incorporate color into everything I wear.The first time I stumbled upon the stained glass windows of the Chartres Cathedral in Chartres, France, I was like a kid in candy store. I love the brightness and vibrance of all the colors, but even more so, how beautiful they look together. We worked hard with our designer to make them appear that you literally are viewing a stained glass window just before sunset, when the light shines through perfectly.
What are your favorite looks in the collection?
That's an easy one- The Hom Tree in "The Hemingway". The tailored fit with the adjustable buckle from "The Hemingway" coupled with the deep, rich blues of the print is exotic, but extremely polished. It can be styled so many different ways for a very dapper look, whether your on the beach or out on the town.
What's next for your brand?
For us, the sky's the limit. The brand has so much potential. It's always been a dream to inspire others to push boundaries and travel the world. So much can be gained from those experiences. I would love to see Pangea branch out into new categories, still utilizing that worldly inspiration to keep the Pangea Gentlemen well-suited (pun intended) for their own adventures.
Do you have anything else to add?
For us (and hopefully our consumers), PANGEA is more than just a swimsuit line. It's an appreciation of art and beauty from around the world. That's why we treat our prints like pieces of art and spend months crafting them to perfection.
For more information about Pangea Swim, please visit:
@pangeaswim
[Darby Radcliff] Photos Courtesy of Pangea Swim