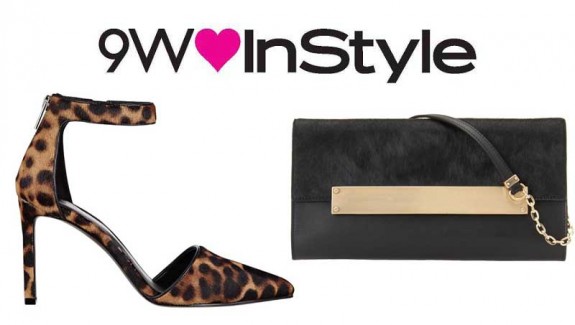 NEW YORK, Aug 18, 2014/ — Fashionistas rejoice! The highly anticipated return of the InStyle for Nine West Accessories Collection now in stores, features expanded offerings of shoes, handbags & jewelry
Since Fall 2013, the seasonal capsule collections have seen immense success with consistent retail sell-throughs of over 80% in both the domestic and international markets.
For Fall 2014, InStyle for Nine West introduces its largest offering of expertly-crafted and editor-designed shoes, handbags and jewelry.
With footwear priced from $79 – $139, the 6 new styles offer consumers a multitude of sophisticated, runway-inspired designs in premium materials such as calf hair, suede, and leather in Fall's must-have colors and prints, including navy, cabernet, leopard and camouflage.
Seasonal favorites such as the Gamin, returning as the Tessa – revamped and updated for extended-wear comfort and style, star alongside Fall staples such as the heeled ankle bootie, zipper-detailed flats and lace-up stilettos.
Building upon last Spring's wildly popular jewelry and handbag collection, a convertible clutch and satchel featuring leopard and gold accents complement the edgy elegance of the silver and gold jewelry priced from $40 – $229.
Due to consistent retail demand both in-store and online, the InStyle for Nine West capsule collection for Fall 2014 will continue to be sold at all domestic Nine West doors and in select international markets including Turkey, Canada and the United Kingdom beginning August 8th.
In their coveted September issue celebrating their 20th anniversary, InStyle will include a 12+ page editorial styling booklet featuring editor-approved style guidelines and tips from InStyle. Additionally, InStyle will announce the Fall 2014 collection with a special in-book placement in their August issue.
"For the past two seasons, we've gained more insight about what our customer wants, how they consume fashion, and who they look to for style advice through the InStyle for Nine West partnership." said Erika Szychowski, Senior Vice President of Marketing at Nine West Group. "The Fall 2014 collection truly speaks to our ability, in partnership with InStyle, to act as the ultimate fashion resource for consumers worldwide."
"We've received such a positive reader response to our past collections with Nine West, showing us that our consumer really values having InStyle's expertise at the retail level. Nine West is the ideal partner to actualize our editors' inspirations from the runway in a way that perfectly blends craftsmanship and wearability," said Ariel Foxman, Editor, InStyle. "For Fall 2014, the end result is a luxe, timeless collection that will add everyday elegance to our reader's lives."
For more information and to view the Fall 2014 collection visit www.ninewest.com.