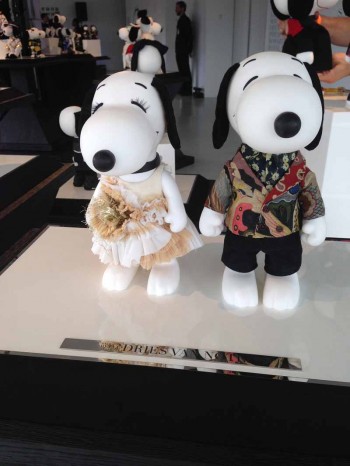 When the "Snoopy and Belle in Fashion Presented by MetLife" exhibition opened on September 8, 2014 in New York at the New Museum's Sky Room, we were one of the first arrivals that there were still a few dolls that were being given finishing touches.
Matthew Donnelly, one of the costumers who crafted the one-a-kind garments specially designed for Snoopy and Belle by fashion's biggest names, was finishing Dries Van Noten's interpretation of what the famed cartoon characters would wear when we caught up with him.
Watching him work, Matthew painstakingly realized the costume designed by Dries Van Noten using fabrics and materials from the Belgian designer's atelier.
To hazard a comparison, it was like looking at "Mini Me" when we saw the final product. It was iconic Dries Van Noten from the micro accordion pleats that wove its way to a flower for Belle to the fitted suit in signature Dries Van Noten prints for Snoopy.
When we commented how authentic the look is, Matthew commented, "It is Dries Van Noten. It is his design. And we used real materials, the same materials he used in his collection."
As we walked around the exhibit, Matthew's comment became very apparent. The Hermes Snoopy & Belle has the signature Hermes scarves for Belle and belt buckle for Snoopy. The Tracy Reese pair has the Belle Époque look that the designer made famous.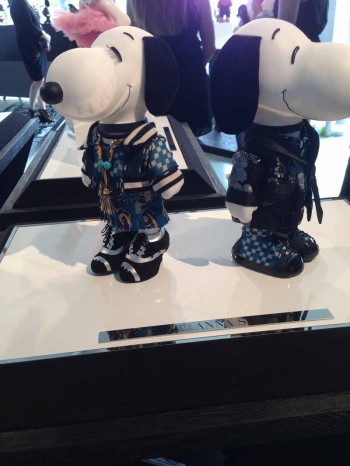 "All the looks have been created in collaboration with the designer," continued Matthew. "It is very important that the garments show the feelings of the designers and their intentions. A lot of elements came together to create the looks."
Walking over to the J. Mendel Snoopy & Belle, Matthew said, "This is so J. Mendel. The scissors and the glasses, that's the designer! I was very lucky interviewing J. Mendel for this one. It was so much fun to dress Snoopy knowing that J. Mendel dressed Snoopy to be him."
Bringing us to the Anna Sui Snoopy & Belle, Matthew explained, "Sometimes the designer just wants to make a statement. For Belle, Anna Sui presented her as a serious lady, as if saying 'Don't mess with me'. The look is still iconic Anna Sui, but the message is also clear."
As Matthew finished giving us our tour, he stopped at the "Devil and Angel" Snoopy and Belle. "This is our Halloween costumes and these were done just for fun," Matthew commented.
And when asked what his overall feeling in being part of a team to dress over 40 pairs of Snoopy and Belle, Matthew immediately said, "It is a lovely experience. Interviewing the designer, looking at the sketches, working with them to realize their vision. It took a village to create the Snoopy & Belle Fashion Exhibit."
For more information or to reserve tickets to "Snoopy and Belle in Fashion," go to
www.snoopyandbelleinfashion.com.
Photos by Mari Davis