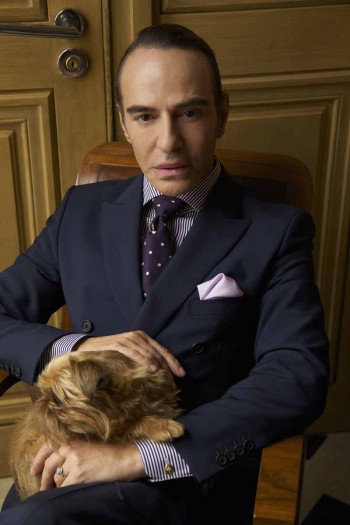 PARIS, Oct 6, 2014/ — In a surprise announcement today, the group OTB (Only The Brave), parent company of Maison Martin Margiela announced that John Galliano will take the creative helm of the house.
Commenting on the appointment, Renzo Rosso, President of OTB said, "Margiela is ready for a new charismatic creative soul. John Galliano is one of the greatest, undisputed talents of all time. I look forward to his return to create that Fashion Dream that only he can create, and wish him to here find his new home".
Founded by designer Martin Margiela in 1988, the maison has always been something of a mystery since its inception. Its founder, Martin Margiela has taken a bow on the catwalk although there was a point in time that he was on the creative helm of Hermes and his own maison.
In fact, until Martin Margiela left his fashion house in the mid 2000s, only a select few can identify him in a crowd.
While Martin Margiela is the epitome of low-key, John Galliano is the epitome of flamboyance. So, when the official press release said that "this appointment marks a new era in the history of the Maison [Martin Margiela], that statement is very true in more ways than one.
Renzo Rosso's description of John Galliano as a "unique, exceptional couturier for a Maison that always challenged and innovated the world of fashion," can easily be used to describe Martin Margiela himself.
Maison Martin Margiela has been described as "iconoclastic and irreverent, a cross-section between fashion and design expressed in all its lines: haute couture, women's and men's ready-to-wear, accessories, fine jewellery, and fragrances."
Interestingly enough, this description also describes John Galliano! As Renzo Rosso said, John Galliano is "a visionary, non-conformist, creative talent," whom he expects "to give new significance to the iconoclastic heritage of Margiela, and new impulse to its exciting future."
Photo of John Galliano by Patrick Demarchelier, courtesy of OTB