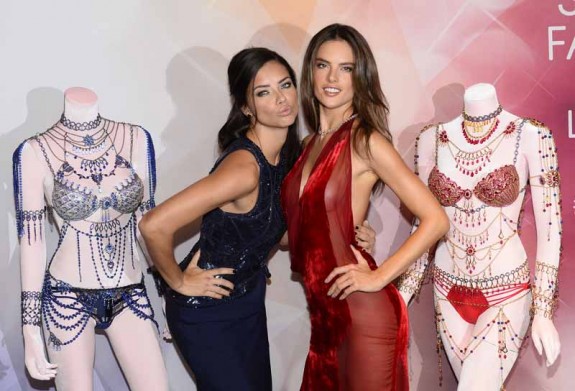 LAS VEGAS, Nov 19, 2014/ — Just in case you missed it, Adriana Lima and Alessandra Ambrosio unveiled the Victoria's Secret Dream Angels Fantasy Bras 2014 in Las Vegas on Thursday, November 13th.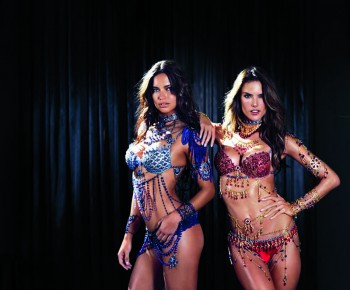 Designed exclusively for Victoria's Secret by world renowned jeweler, Mouawad, both bras are valued at $2 million each. The Dream Angels Fantasy Bras, which were inspired by the Dream Angels Demi silhouette, are adorned with over 16,000 precious gems.
Accompanying the bras are arm, leg, stomach and neck pieces of fine gemstones strung together with 18K gold. The bras and body pieces took over 1,380 hours to create.
The Dream Angels Fantasy Bras are handset with rubies, diamonds, blue and light blue sapphires all set in 18K gold. If the Fantasy Bra is out of your price range, our classic Dream Angels Demi is another great holiday option.
To create the bras, over 16,000 stones from around the world were inspected to find perfect colored, sized and shaped gems. Every perfect stone was handset by master craftsmen.
For the first time ever there will be two Victoria's Secret Angels, Adriana Lima and Alessandra Ambrosio, wearing the bras and body pieces. Adriana and Alessandra will also wear the Dream Angels Fantasy Bra and matching body pieces, designed by Mouawad for Victoria's Secret, on the runway at the
2014 Victoria's Secret Fashion Show which airs December 9th on the CBS Television Network.