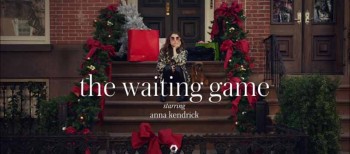 NEW YORK, Nov 15, 2014/ — As announced last October, Kate Spade is collaborating with Anna Kendrick as its muse for its upcoming campaigns and it begins with "The Waiting Game" holiday campaign video which launches today.
Leveraging the power of touchscreen technology, the video features "touchable" moments embedded within. While they watch and enjoy, viewers can tap the items that interest them. At the close of the video, their selected content is waiting to be further explored.
Viewers may shop all the looks featured by touching the product, thereby producing a link for purchase at the close of the video.
Touch the scene in which Anna's drags her Christmas tree home and find tips for how you can get your own tree home.
Touch the scene featuring our favorite pup Milos and see what others have to say about working with him. Exploring is half the fun and "the waiting game" has colorful surprises behind every scene.
Click here if the video does not start.
"Anna embodies the kate spade new york spirit in so many ways. She is beautiful, smart, hilarious and wildly talented. I am thrilled to have the opportunity to work with her over the next several months and to be the beneficiary of her enormous wit and charm. She is a true joy to work with," says Deborah Lloyd, President and Chief Creative Officer of kate spade new york.
This is only the beginning of the collaboration between kate spade new York and Anna Kendrick. The actress will also act as the muse of the label's "The Year of Adventure" campaign that begins early 2015.
As part of the partnership, Kendrick will collaborate on original content for the brand including films, online editorial features and social media campaigns.
Photos courtesy of kate spade new york