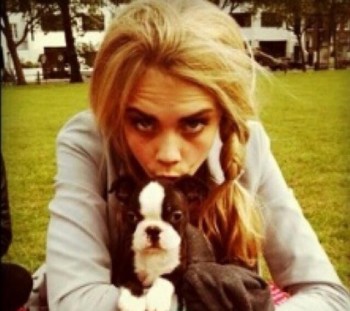 LONDON, Nov 13, 2014/ — The world knows Cara Delevingne as a fashion model and a socialite. Some see her as an actress and singer. And now, Cara adds a vocation in her résumé – animal advocate.
An animal lover, Cara Delevingne has teamed up with animal charity New Hope Animal Rescue, to launch #Art4animals, a new art-themed campaign in a bid to make potential owners aware of what keeping an animal involves.
#Art4animals is an initiative which aims to raise awareness that an animal is for life and not just for Christmas, and should be seen as a long term investment, much like a piece of art.
The initiative came about via Cara's friend Sophia Kerrison who's a huge animal activist and wanted Cara's help to raise awareness and money for New Hope Animal Rescue.
Cara Delevingne and Talenthouse are inviting illustrators, designers and artists around the world to create original animal-themed piece of artwork that celebrates everything animals bring to our lives for the chance to be featured as part of a #Art4animals London exhibition, curated by Cara, where the work will be auctioned by contemporary online gallery Kids of Dada to raise money for New Hope Animal Rescue.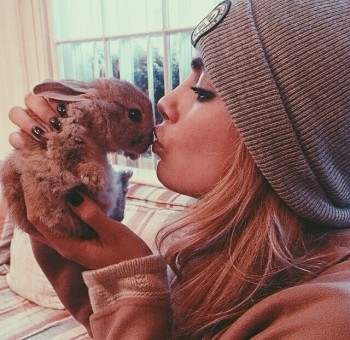 As part of the #Art4animals campaign, celebrities including fashion designer Matthew Williamson and Sadie Frost have contributed their pet-themed art work.
Cara is hosting the collaboration within Talenthouse's community, which is free to join, and consists of creatives from art, design, music, film, fashion and photography.
Commenting on the #Art4animals campaign, Cara said: "I'm concerned by the level of cruelty suffered by animals at the hands of humans, and I believe we have a responsibility to stand up against animal abuse, and help provide those animals who have suffered, a second chance."
"Owning a pet is not all about the 'cute factor'; it involves a lot of time, love and money, so if you're thinking about getting any animal as a gift for someone at Christmas, or any time of the year, make sure you are ready for the commitment! This is such an exciting, worthy cause and I can't wait to see the art work that Talenthouse's global creative community produces. I hope you will join me in raising money and awareness for this fantastic rescue and all the animals that rely on it," Cara added.
16 artists as selected by Cara, Sophia, New Hope Animal Charity and Kids of Dada will:
Have their work re-produced, sold on kidsofdada and will receive 10% of all profits* (proposed selling price £150 per print, limited edition run of 50 printed on-demand)
Have their work and Talenthouse profile featured across the social media channels of Cara, Sophia, New Hope Animal Rescue and Kids of Dada
*Remaining profit minus administration costs will go directly toward New Hope charity. Kids of Dada or Talenthouse will not personally profit from these sales.
The voting period is the time to engage your friends, family and supporters to vote for your work! One artist with the highest number of votes will:
Automatically have their work included in the limited edition run of prints on kidsofdada.com
Illustrators, designers and artists have until 6pm GMT, Monday 1 December, 2014 to submit and upload their original animal-themed art work here: https://www.talenthouse.com/i/submit-art-for-cara-delevingne-and-new-hope-animal-rescue?preview=true