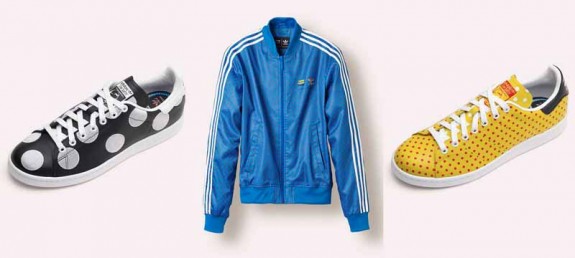 NEW YORK, Nov 21, 2014/ — Pharrell Williams continues exploring his ongoing love affair with two of adidas' most celebrated design icons: the Superstar Track Jacket and the Stan Smith sneaker.
The final two adidas Originals = PHARRELL WILLIAMS product deliveries for 2014 – with additional drops to follow in 2015 – find Pharrell toying with the classic polka dot: a bold, fun print motif that signals both energy and joy. Both assortments experiment with different colors; fabrics and dot size proportions.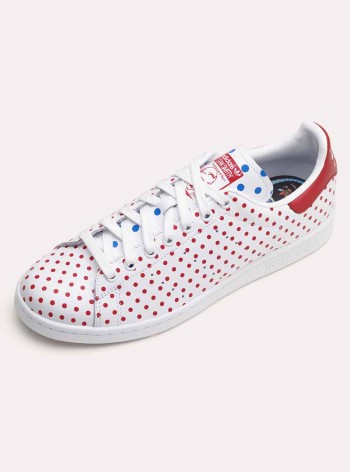 On November 28th, which happens to be Black Friday, the first of these two, distinct 'Polka Dot Packs' is being launched in-stores worldwide.
The first 'dot' delivery features a smaller scale dot, printed in red. While the Stan Smith shoes in this assortment are leather, the track jackets are offered in satin. Both jackets and trainers are ranged in a palette of yellow with red micro-dots; blue with red micro-dots; and a fresh white, also featuring the smaller sized red dots.
In December, a second 'Polka Dot Pack' showcasing a larger size polka dot throughout, offers Stan Smith sneakers in 3 different shades each cut from fine leathers. In this edition, white dots are spread across the footwear, applied over a background of red, blue or black.
A series of three leather track jackets will mirror the sneakers' color and dot size, rounding out this assortment.
'Polka Dot Small': The 'Polka Dot Small' satin Superstar Track Jackets and Stan Smith sneakers will retail for $120. The package will be available atadidas Originals Stores worldwide, on adidas.com/pharrell, as well as in select Foot Locker locations and other retailers. It will be available for purchase starting on November 28th.
'Polka Dot Big': The 'Polka Dot Big' Stan Smiths will retail for $150 and will be available at select sneaker boutiques, concept stores and adidas Originals flagship stores globally as well as on adidas.com/pharrell. The corresponding leather track jackets will retail for $1000 and will be carried by select retailers, concept stores and adidas Originals flagship locations worldwide. The 'Polka Dot Big' pack is expected to arrive in stores in December, 2014.