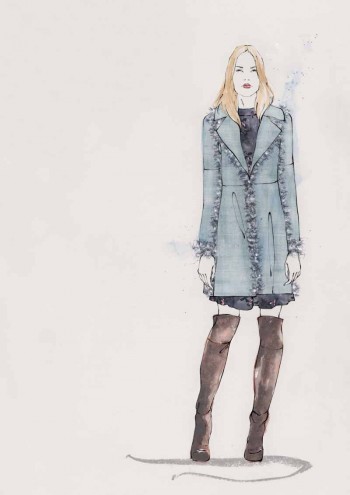 NEW YORK, Feb 6, 2015/ — For Fall 2015, Rebecca Taylor channels the eclectic French girl – Francoise Hardy. She searches Portobello Market and Les Puces de Saint-Ouen for cool Victorian pieces and soft, femme chiffon dresses to style with "worn-in" Military jackets.
Mystic Garden floral patterns are complimented by textural Shadow Plaid and static prints in chiffon. Deep jewel tones such as Dragonfly, Electric Blue, Oxblood and neutrals like Air-force Green and French Khaki are grounded by softer tones of Woodrose Pink and Maltball.
Richly textured fabrics include garment dyed floral brocade dresses, lofty fringed outerwear, languid wide leg pants and lurex knife-pleated skirts.
Modern embellished herringbone details give jackets a military vibe while artisanal accents such as lace appliqués and delicate embroidery form a perfect harmony between romantic and utilitarian.