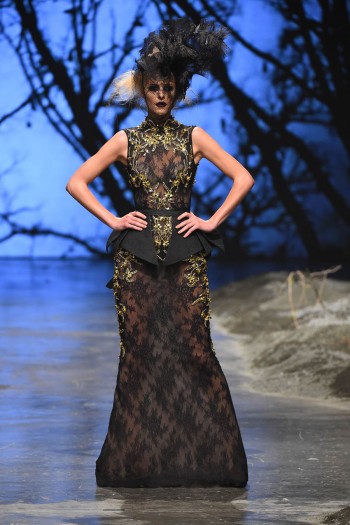 DUBAI, Apr 19, 2015/ — From the Fashion Forward Dubai press notes:
Celebrated for his natural ability to craft extravagant and artistic designs, Furne One, the Philippine-born, Dubai-based designer of Amato, is renowned for his creativity and natural panache to transcend everyday trends into classic works of art.
From ethereal bridal wear to playful prêt-a-porter, Amato collections are all about celebrating the real woman – expressive, opinionated, and quirky, with soaring self-respect and the confidence to revel in the power of her femininity.
Amato Haute Couture's signature flair, using an enchanting mix of rich textures and lavish materials with a heavy emphasis on luxurious detailing and embellishment, reflects elegance, aesthetics and energy in equal measure.
Inspirations range from romantic Shakespearean tales and vintage postcards to the vibrancy of new-age cities and the dramatics of a corpse bride.
Photo by Stuart C. Wilson/Getty Images for Fashion Forward