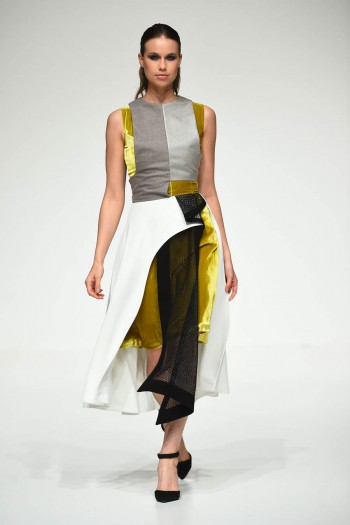 DUBAI, Apr 15, 2015/ — From the Fashion Forward Dubai press notes:
Designer: Hussein Bazaza
Collection Name: Luna
Number of pieces: 33
Inspiration: "I shall call you Luna, since I found you in the light of the moon" that's the story behind Hussein Bazaza's new autumn/ winter 15 collection. Luna is inspired by a myth of a princess and a wolf, and all the signature pieces of the brand can be seen throughout the collection. Luna simply describes the style and work of it.
The collection can be divided into four parts.
Part 1 – is the geometric feel of cuts and shapes where different materials are patched together to create a form of geometric lines.
Part 2 – the draped pieces, where the moulage technique is used to create several pret a couture layered pieces.
Part 3 – the prints reflect the story behind the collection and create a 3D effect.
Part 4 – the couture part of the collection where different patterns of lace and embroidery are merged together to create a kind of ombre effect of colors, similar to a painting .
The colors of "Luna" reflect the story – black, dark blue, forest green, burgundy, nude and white, with a hint of mustard yellow and royal purple. Flowers are a signature in every collection by Hussein Bazaza. Here we find them in the shape of red roses used with snake skin accessories and fringes.
Photos by Stuart Wilson for Fashion Forward Dubai