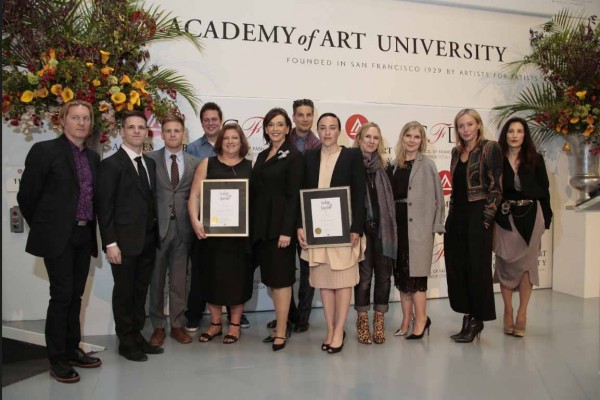 On Thursday, May 14, 2015, 39 student designers presented their final collections at the annual Academy of Art University Graduation Fashion
Show in San Francisco.
In addition to showcasing student work to this year's honored guests, The Council of Fashion
Designers of America (The CFDA) and School of Fashion alumna and 2014 CFDA/Vogue
Fashion Fund runner up Ryan Roche, the fashion show introduced the collections of the B.F.A. and M.F.A. students to some of the most influential members of the fashion world.
"We see our role in these designers' education as going beyond the classroom," said Dr. Elisa Stephens, President of Academy of Art University. "We are committed to help launch our students' careers and have their collections seen by as many industry professionals as possible.
The fashion show consisted of 21 collaborative menswear and womenswear collections created by students who studied Fashion Design, Knitwear Design, Menswear Design, Technical Design, Textile Design and Jewelry/Metal Arts.
Of the 21 collections presented, six were collaborations between Fashion Design, Knitwear Design, Textile Design, and Jewelry/Metal Arts students. Twelve Fashion Design and Textile Design students collaborated on a 15-look capsule collection to celebrate the 30th anniversary of BCBG Max Azria sister brand Hervé Léger. M.F.A. Fashion Designer Nina Hui was selected by BCBG to participate in an internship with Hervé Léger.
Prior to the fashion show on Thursday, May 14, Academy of Art University hosted the President's Award Ceremony and Reception at the School of Fashion.
During the ceremony Dr. Stephens presented The CFDA with the award for Outstanding Contribution to the Fashion Industry and Fashion Education. The CFDA Executive Director Lisa Smilor and Senior Manager of Professional Development Sara Kozlowski accepted the award on behalf of The CFDA for the organization's leadership in and outstanding contribution to the growth of the American fashion industry.
Dr. Stephens also presented The CFDA with a Certificate of Honor from The City and County of San Francisco. In addition, School of Fashion alumna and honored guest Ryan Roche was recognized for her eponymous line's success with the Academy of Art University Distinguished Alumni Award.
Student awards were also announced at the reception. Lisa Smilor presented B.F.A. Fashion Design students Pitzy Villagomez Ortega and Anh Phuong Thy Do with CFDA Scholarship Awards for $10,000 and $5,000, respectively, and Ryan Roche announced that she had selected Gisel Ko, B.F.A. Knitwear Design, for an internship.
School of Fashion Executive Director Simon Ungless announced winners of the YMA-Fashion Scholarship Fund and the Paris Sister City Scholarship Exchange with Studio Berçot and L'Ecole de la Chambre Syndicale de la Couture Parisienne in Paris, France.
Photos by Randy Brooke, courtesy of AAU
Graduation Collection
Keith Gunning
Gyuwon Jeong and Jimin A Kim
Yunseon Kim and Carmen X Liu
Livia Bianda
Gisel Ko
Linka Rowland
Dominic Tan
Eleonore L. Santos
Gaia Giladi
Damien Chandra
Cherng-Hann Lee
Patricia Wijaya
Xun Li
Karina Garcia and Mariana Pazos
Amanda Manashi
Jeremy Vu, Lupita Ramirez and Justin Lei Wang
Ye Kuang and Candy Hsinyu Chu
JC Munoz
Ruone Yan
Shuman Yao
Capsule collection for Hervé Léger
Designers for the capsule collection to celebrate the 30th anniversary of Hervé Léger:
Geu Mi Lee
Melissa Kheng
Dora Li
Fei Li
Lindsey Trueman
Yibin Xu
Li Lai and Nina Hui
Emma Xueling Cui
Novi Utami
Nomin Gantulga
Lauren Lusby