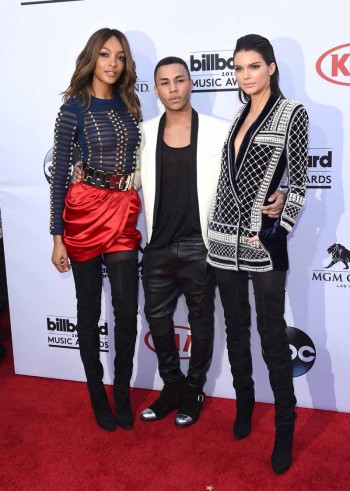 Under the klieg lights and with millions watching, Olivier Rousteing, Kendall Jenner and Jourdan Dunn walked the red carpet at the Billboard Music Awards to reveal the first pieces of the highly anticipated Balmain and H&M collaboration collection.
Described as "a mix of couture and street wear attitude", the collection is cleverly dubbed as #HMBALMAINATION with an obvious homage to the hashtag generation.
"I want to talk to my generation: this is my main purpose as a designer," said Olivier Rousteing, Creative Director of French fashion house Balmain as he explained the hashtagged moniker.
"H&M allows me the unique possibility of bringing everyone into the world of Balmain, getting a piece of the dream and creating a global #HMBalmaination: a movement of togetherness, fueled on a hashtag. The collaboration felt extremely natural to me because everybody can connect with the H&M brand. It calls for unity, and I am all for it", Rousteing added.
"We are excited to have Balmain as our guest designer at H&M and create a truly involving experience for everybody. Balmain owns a unique style, at once opulent and direct, sensual and energetic. It is also closely linked to the show business and music worlds, which adds another element of surprise," says Ann-Sofie Johansson, Creative Advisor at H&M.
Founded in 1945, Balmain has always remained true to the vision and spirit of its founder, expressing energy, fun, amusement and freedom, with appeal for everyone. Rousteing has created a unique identity for the house, at once respectful of its couture DNA and rooted in the moment, but with a showbiz flair. It was a natural decision to highlight the signature Balmain pop charm through collaboration with H&M.
Available from November 5, in around 250 stores worldwide and online, the collection will feature clothing and accessories for both women and men.