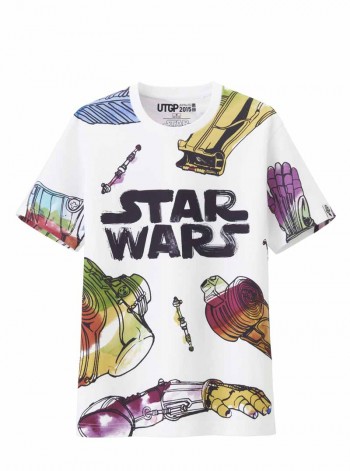 Just in time for Star Wars Day, May the 4th, UNIQLO is thrilled to announce the launch of a collection of 23 UNIQLO T-shirts (UT) featuring submissions for its Star Wars-themed UT Grand Prix 2015 design competition.
The panel of judges for the contest comprised of Darth Vader, cartoonist Jeffrey Brown, UT creative director NIGO, Lucasfilm executive creative director Doug Chiang, and Star Wars Rebels art director Kilian Plunkett.
They decided the Grand Prize winner, the Second Prize recipient, various awards from individual judges, and 12 Runner-Up awards. Four of the 23 T-shirts were personally designed by the judges themselves.
Men's and kids product ranges in price from $19.90-$12.90 and is available today online and in-store nationwide.