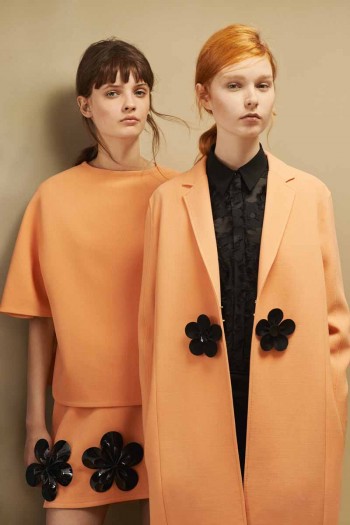 In this Pre-Spring/Summer 2016 Victoria, Victoria Beckham collection the designer looks to the design legacy of the circus. Drawing inspiration from the striking colour combinations and graphic motifs of fairground iconography, bold cutting techniques and innovative fabrics are introduced to create an extended range of sophisticated separates and occasion wear for today.
The relaxed glamour of Victoria, Victoria Beckham's signature dresses is brought together with the workwear pragmatism of the label's newly integrated denim line, establishing a broader, more versatile design universe. The asymmetrical cocktail dress and the sporty tabard top, the embellished leather skirt suit and denim culottes each have a place here, all interacting vivaciously with one another.
As an upbeat palette of candy colours builds against contrasting black backgrounds and outlines, a vivid graphic language comes into play. Vibrant transfer patterns, floral prints and 3-D embroideries are carried across a variety of materials and categories, while the swirling lines of Victorian circus posters are incorporated into hems and scalloped edges.
Traditional cutting methods and heritage fabrics are brought up to date as the design atelier offers a modern take. Feminine ruffles, sculptural gathers and soft bows find graceful form in technical piqué, paper taffeta and compact duchesse satin. Fil Coupe lends complexity to classic shirting and lustre to evening jackets; sleek dresses and overcoats are enriched with detachable vinyl flower adornments.
"I wanted this collection to offer versatility, as we broaden the label to reflect the complex lives of the VVB girls," explains Victoria Beckham. "I travel a lot and so do my customers – with this other side of my wardrobe, it's important to keep things easy and wearable as well as fun."
Photos courtesy of Victoria, Victoria Beckham