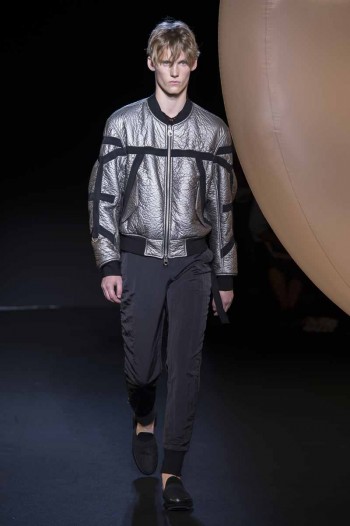 With commercial space travel nearly a reality; the 'future' is no longer a fantasy. And with that foremost in their minds, Creative Directors Woo and Katie Chung look to how the WOOYOUNGMI man would dress for his lunar voyage.
Hence for Spring 2016, they dressed him as if "he is contemplating the future, gazing at the moon with the knowledge that it will soon be a possibility.
The feeling of excitement, awe and wonder that those travellers will feel forms the key inspiration: the interpretation of a cold and clinical expedition is put aside and instead it is envisioned as the most luxurious journey one can make, he is dressing with a sense of occasion.
For the designers this journey is one filled with beauty and emotion, the soundtrack, composed byStuart Sibley, is reflective of this with the emotion of the piece building as the dream becomes a reality.
WOOYOUNGMI's tailoring traditions are combined with luxurious fabrics and utilitarian detailing to achieve a sophisticated yet practical wardrobe: wrinkled coats and suit jackets, ruched trousers and quilted embroidery on the tailoring add interesting textures, while still baring in mind the wardrobe needs of their traveller.
This season's suiting comes in a slim silhouette, but worn withthe same easy attitude of Chung's previous seasons – tailored jogging pants continuing the designers' narrative of relaxed luxury. The looseness of the previous season is not entirely lost, with baggy pants dotted throughout the collection to juxtapose structured and fitted tops.
Rather than the use of prints, different washes are used to give the impression of the face of the Moon as seen in the sportswear aspects of the collection. Zip-up blousons and jogging pants almost become a relaxed and modern version of a spacesuit.
A warm but minimal colour palette of olive, taupe, navy and beige opens the show with black tones accented with silver hardware coming through into the finale, representing the WOOYOUNGMI traveller leaving the Earth's atmosphere and escaping into space.
Madame Woo and Katie Chung have updated classic pieces to tie in with this journey to the newfrontier with laminated coats and rubberised sleeveless knits seen throughout the collection. A sleeveless body warmer made from reversed sweatshirt material and coated in silver resembling foil is a striking piece which fully embodies the new moon bound traveller.
Photos courtesy of Wooyoungmi