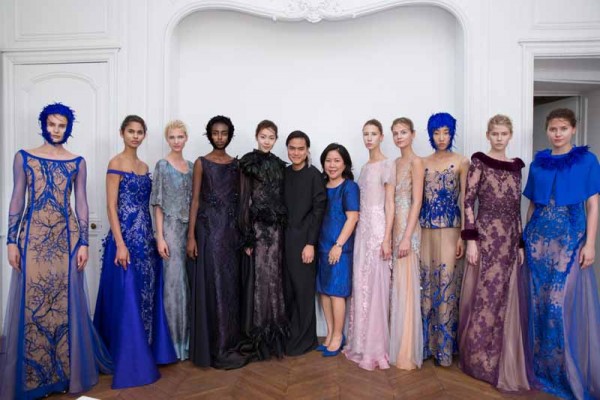 "The sky before sunrise is soaked with love and light, but she ultimately chooses to see fear and darkness. She's like the Queen of the Night." – Busardi Muntarbhorn, Creative Director of Busardi
Following Busardi's resounding success as the first Thai label to show during Paris Haute Couture Fashion Week last season, a metaphorical mood takes over once again for Autumn-Winter 2015.
A white flower blooming once a year in the dead of the night, Epiphyllum Oxypetalum, or 'Queen of The Night', captures a brief moment of glory where love expels fear, light expels darkness, and good expels evil, in which the collection takes root.
A black brocade cape and dress adorned with feathers and Busardi's signature Guipure lace appliqué, embodying fear, sets off the collection with the bud of an Epiphyllum, portentously reinforced by draped feather masks which enthrall the face.
Lavish profusions of dark purple feathers on a cape drive a subversive romanticism, whilst rich brocade, cloqué and duchess satin cocktail dresses with fur trims and lace appliqué are offered in an array of light and midnight hues: playing on the image of the encroaching night which pervades the show.
Textural and amplified layering of Guipure lace floral appliqué over Chantilly lace dresses mimic aquatic weeds spilling across the Gila River in the Arizona, by which the Epiphyllum dwells; echoes of the river return in draped turquoise chiffon over autumn-hued printed jacquard which give an unstructured rippled effect.
Fabrics: Brocade, Guipure lace, duchess satin, cloqué, organza, Thai silk, Chantilly lace, floral printed jacquard and embroidered tulle.
Colours: Black, dark purple, navy, pale pink, silver, violet blue, dark navy, violet red, royal purple, turquoise, wisteria, blue-green, electric blue, pink beige, peach beige, sky blue and burgundy.
Photos courtesy of Busardi