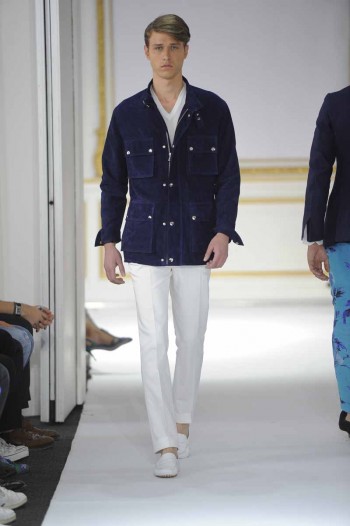 For Spring/Summer 2016, Cifonelli returns to its Mediterranean DNA with an urbane collection echoing the palette of the Mare Nostrum and elegantly tailored silhouettes.
With a range of colors from verdant greens to Celestine blues and palest tans, this elegant collection finds inspiration from the sky and sea, stone and sand of the sun-drenched Côte d'Azur
Creative Director John Vizzone brings the Cifonelli gentleman to a new level of contemporary sophistication with a memory of his past. In addition to the shapely signature silhouette, the famed chiseled shoulder and trim trouser, a distinctly tailored group reflects the softer Neapolitan brio that pairs a natural shoulder with an easier, fuller single-pleated trouser.
And in keeping with theme of sea and sand, masculine sportswear resonates with a distinct nautical motif and recollections of deep blue seas and whitewashed walls, while elegant evenings of dining and dreaming in the moonlight are ushered in with equally poised formalwear.
Photos courtesy of Cifonelli