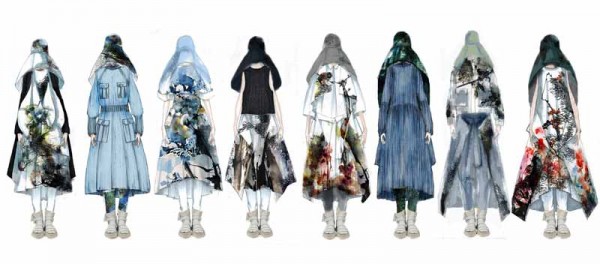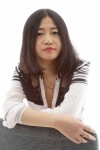 Liz Li, M.F.A. Fashion Design, was born in Wenzhou, Zhejiang Province, China, and grew up in Shanghai, China. While in Shanghai, Li worked as a design assistant at PCCS Garment Co. Ltd, and as print designer for Zhuang Rong Qipao Co. Ltd. Li's experience in the United States includes working as a fashion designer for San Francisco-based brand the DNA Group, as well as assisting a group of School of Fashion designers with the construction of their Spring 2015 New York Fashion Week collection.
For Spring 2016, Li created a collaborative collection with M.F.A. Knitwear Designer Bom Kim. Traditional Chinese painting and the juxtaposition of abstract art and freehand brushwork inspire the collection. A color story inspired by the seasons roots the collection with a natural palette, which is set off by contrasting black details.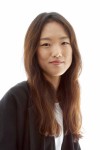 Bom Kim, M.F.A. Knitwear Design, was born and raised in Seoul, South Korea. For Spring 2016, Kim collaborated with M.F.A. Fashion Designer Liz Li on a collection that features 1940s-inspired A-line silhouettes.
Garments are constructed from linen and transparent fabrics to give the collection a sculptural, airy quality. Their inspiration of abstract art and traditional Chinese painting can be clearly seen in the collection, which features hand painted fabrics, embroidery, and custom knitwear designed by Kim.