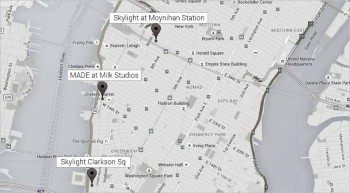 With less than a month before the official start of the Spring 2016 season, New York Fashion Week readies itself to move downtown to two unique spaces, Skylight at Moynihan Station and Skylight Clarkson Square.
As announced last April, the relocation is one step in the evolution of NYFW, which will be reintroduced as a new platform that focuses on content, caters to the needs of the industry, and creates a full cultural experience for guests.
The new homes for NYFW were chosen with the full support of community leaders, including New York
State's Empire State Development (ESD), which owns Moynihan Station; the City of New York; and
Mayor Bill De Blasio.
After a series of conversations with designers, show producers, journalists and partners, IMG made the strategic decision to move the event to unique spaces that offer superior production elements and versatility.
With their west SoHo and west midtown locations, Skylight Clarkson Sq and Skylight at Moynihan Station will enable guests to get to and from other show venues throughout the city more efficiently and connect directly to other cultural hubs. NYFW will also include a more carefully curated designer schedule that will be complimented by strategic partner alliances.
Map courtesy of NYFW: The Shows