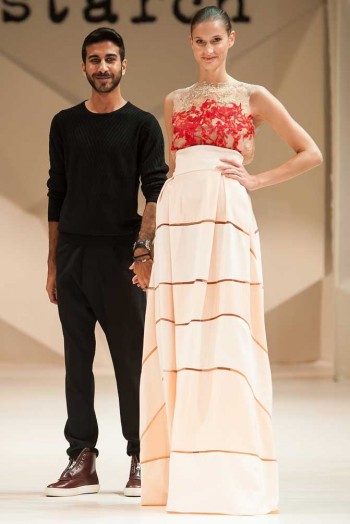 DUBAI, Oct 16, 2013/ — The Starch Foundation featuring Lebanese designers Bashar Assaf, Hussein Bazaza and Lara Khoury.
Bashar Assaf
Collection Title: Hallucinations
Inspiration: Hallucinating is seeing something in front of you that is not actually there, somehow like watching television. Television static, noise and glitches are used to represent the state of mind of someone in the process of hallucinating.
This forms the bases for the SS14 Bashar Assaf collection. The prints distort the volumes of the garments, while the cuts and layers seem to play mind tricks with the viewer.
Materials/Fabrics: Various Crepes (Crepe Georgette, Silk Crepe de Chine, Crepe Marocain) and digital printed fabrics.
Hussein Bazaza
Collection Title: 335
Inspiration: Personal feelings and emotion, layers of the skin and what is beneath, and the dissolving process.
Materials/Fabrics: Lace, silk, crepe and 3D cotton fabric
Lara Khoury
Collection Title: Phoenix
Inspiration: I dare to dream of a peaceful and glorious Lebanon, where people can unite, where political differences are set aside, where violence doesn't exist, where anyone can coexist peacefully. That is also why I dedicated my collection to Lebanon. If I can get people to see what I see, then we can start forward to a better future.
Materials/Fabrics: Mixture of muslin
Photos courtesy of Fashion Forward