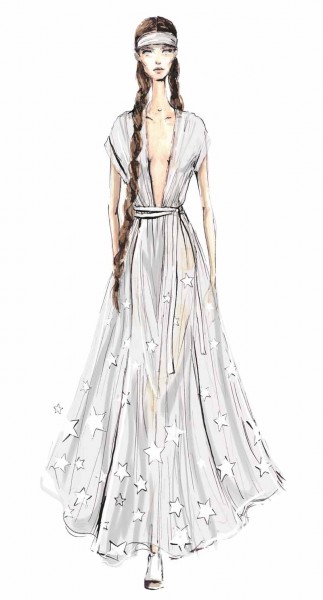 NEW YORK, Aug 24, 2015/ — Catching up with Mara Hoffman just weeks before the New York Spring 2016 season, the designer revealed that she has been inspired by 1970's Americana, specifically Willie Nelson and his 1978 rendition of "Blue Skies."
"Our brand is often associated with far off, worldly inspirations, and this one is about bringing it on home. The Spring 2016 collection is our interpretation of classic Americana, inspired by the great Willie Nelson," Mara said.
By filtering this theme through the designer's lens, the collection features original prints of stars and stripes, blue skies, florals and country wheat fields in trademark silhouettes such as wide leg pants, tie-front and cut-out dresses, midi length skirts, and jumpsuits.
In a modern juxtaposition, the collection combines soft pastels, neutral tones, and head-to-toe whites with saturated rainbow hues, including an aura light print reminiscent of the psychedelic era of the 1960's and 70's.
Along with signature prints, beautiful embroidery and novelty fabrics share center stage in the Spring 2016 collection. Designs include stars embroidered on silk chiffon, a colorful landscape embroidered on twill, and wheat fields embroidered on gauze.
MARA HOFFMAN Spring 2016 Runway Show
Date: Saturday, September 12, 2015
Time: 3:00 p.m.
Location: The Gallery @ Skylight Clarkson Square
Photo courtesy of Mara Hoffman