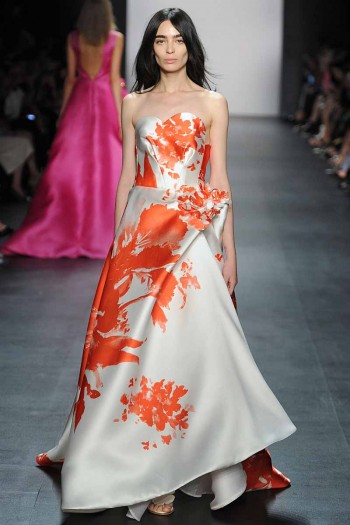 Inspired by the cayena flower, better known as the hibiscus, the Angel Sanchez Spring 2016 collection demonstrated the designer's clever use of color as he sent vibrant shades of grass green, citrus yellow, mango orange and fuchsia on the catwalk.
Sanchez also gave a nod to the "white is the new black" trend this season by proposing white for both daywear and eveningwear.
The collection is dramatic and filled with light. Dramatic shapes and color dominated. Sanchez utilized unique fabrics, such as leather and acrylic to craft delicate floral detailing – the only adornment needed for his bold silhouettes.
The "Cayena-Tropical Couture" is a beautiful collection that puts Angel Sanchez in the list of great colorists in the New York Fashion scene while also paying homage to the designer's South American background.
Photos courtesy of Angel Sanchez