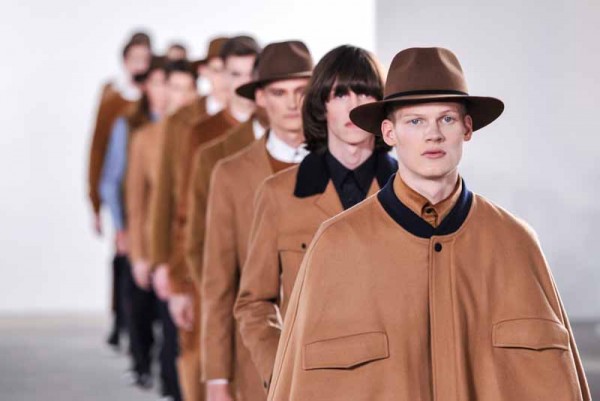 The Carlos Campos Fall 2016 Collection is inspired by the quiet elegance of "El Capataz" (The Foreman), the native son of the coffee-growing highlands who returns home from the city every October as an overseer to take the crop to the urban marketplace. A man born in these lands, he inspires camaraderie and respect with the workers in the fields, but keeps to himself.
"I have always been fascinated by El Capataz, the coffee cartel boss who displays a sort of power that is more implied than exhibited," says Campos. "His authority is conveyed in his style, which is this layered way of dressing – elegant and sophisticated, yet with a hint of the rustic. A look that quietly telegraphs power and confidence."
Campos was inspired to emulate the solitary romanticism of this traveler and his well-considered wardrobe in his Fall 2016 collection. By creating a utilitarian look inspired by the uniform, Campos tells the story of a man on a journey, while maintaining the attention to detail, tailoring, and minimalism for which the designer is celebrated.
"This collection is about a man who is confident and comfortable with the power he has, and that confidence is seen in his relaxed yet commanding wardrobe choices," comments Campos. "Although I've designed the collection with an eye to softness, texture, and layering, there's still a very structural approach to the looks."
In line with Campos' inspiration, the collection is presented in a controlled palette of classic camels reminiscent of the color of lightly roasted coffee beans, alongside Campos' signature navy, with accents of winter white and burgundy. Texture plays a significant role in the plush but lightweight zibeline brushed wools and cotton velveteens, which convey the practicality of natural fibers while maintaining a luxurious, sophisticated feel.
Coats graze shins and ankles, creating a feeling of enveloping warmth against the coolest of temperatures. Pants, though cropped, feature elongated rises consistent with the structured and tailored fit for which the brand is known. Straps and cargo pockets are used to create a highly stylized utilitarian feel for this man of the mountains. With a nod to the importance that ecology plays in coffee production and the fluidity of Campos' design aesthetic, a sweatshirt playfully proclaims "Sin Agua No Hay Café," which translates as "Without Water There Is No Coffee."
Honduran-born, New York-based designer and CFDA member Carlos Campos was The Fashion Group International's Rising Star for Menswear in 2009, a finalist for the 2011 VOGUE/CFDA Fashion Fund Award, and the 2013 Vanidades Icon of Style for Menswear. Carlos Campos NYC is available at better department stores and boutiques globally and online.