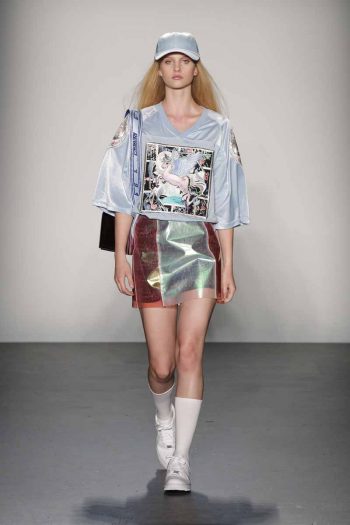 Sportive with touches of athleisure and gender bending silhouettes, Heejin Kim designing under the label Kimmy J titled her Spring/Summer 2017 collection "7696 KARMA."
Delivering the idea of "KARMA" by literally putting it as an appliqué on the clothes, Kim explained in her press notes that 7696 combines the childhood years of her and her parents.
Then through old school hip-hop, and "retro vintage" patterns inspired by East Asian culture, Kim combines futuristic synthetic material to interlock the two time periods, portraying her story of "Karma."
A very dynamic collection that will appeal to Millennials, Kimmy J remains a cult label with signs of moving towards the mainstream.
Designer Heejin Kim, majored in integrated design in Yonsei University. Originally expressing her creativity through furniture design, Kim felt her artistic imagination was stifled, and 2013 launched KIMMY J. Kim aims to develop a witty collection for urban lifestyle using her structural design aesthetic. KIMM J has previously showed during Seoul and Paris Fashion Week.
Photos courtesy of Concept Korea