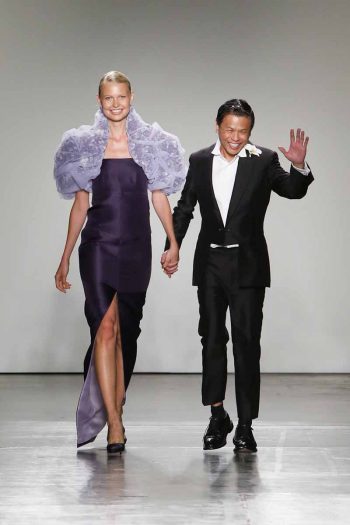 NEW YORK, Sep 14, 2016/ FW/ — Good things come in threes and this season is a trifecta for Zang Toi!
First, Zang was appointed by Lexus to create an all-new wardrobe for its auto show product specialists. The collection, which debuted this September at the Miami Auto Show is the epitome of the House of Toi's DNA – unapologetic luxury, understated elegance and a pursuit of perfection.
Going two for two this season, Toi joined forces with Papyrus to create a custom greeting card line. Known for its premium, handcrafted greeting cards, Papyrus commissioned the New York-based designer to create 24 original greeting cards and 2 box sets. All of them will be available online at papyrus.com and Papyrus stores nationwide.
Capping this season and making it a trifecta is the designer's "Glorious Giverny Garden" collection for Spring/Summer 2017. Inspired by the famed Giverny Garden, Toi celebrated the classic and timeless French style. Adding his own unique touches, Zang made the silhouettes modern and relevant.
Choosing black, ivory and beige as his basic color palette, lilac and violet, two colors which are evocative of Claude Mone'ts Giverny Garden were added for drama. Delicate fabric were molded and then meticulously crafted by hand to mimic cascading wisteria. The result – a 3D appliqué that is so delicate they look like real flowers!
And because this is a Zang Toi collection, there is always an unexpected element. For Spring/Summer 2017, the prominent silhouette is the kimono sleeves which pay homage to Monet's fascination with Japanese culture.
Presented on September 13, 2016, a very hot and humid day in New York City, the air-conditioning can barely keep up with a full-capacity crown at Pier 59 but fashionistas still flocked at the venue to see Zang Toi's latest collection. And once again, the designer did not disappoint. He took his bow with a standing ovation from the audience.
Photos by Eka Halim, courtesy of Zang Toi