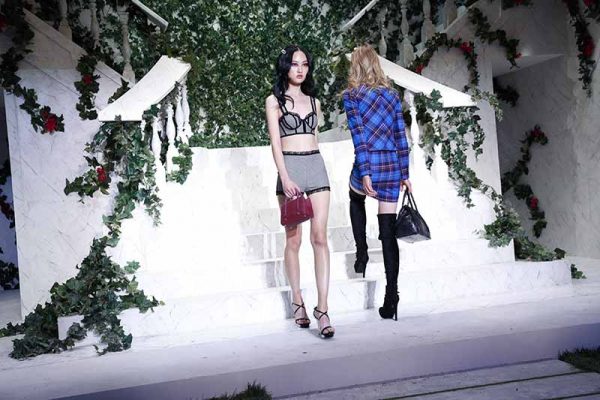 For her second season, Creative Director Julia Haart embarked on a creative exploration of nature seen through the eyes of the artist. The designer was inspired by the motif of the British garden as captured by painters throughout history.
For the ready-to-wear collection, Julia Haart turned to Baroque and Pre-Raphaelite painters Rachel Ruysch and Lawrence Alma Tadema, both of whom were drawn to the beauty of botanicals. Their work inspired the rose clusters form on blazer lapels. Flowers are also embroidered on rompers and appear in full bloom in sequin detailing. Like the 220 versatile pieces in La Perla's ready-to-wear collection, there are flowers for every occasion, and every sentiment.
La Perla's lingerie expertise is highlighted throughout the collection. For Fall/Winter 2017, Julia Haart evolved the concept of built-in-lingerie introduced last season in the hallmark Corset Jacket. The innovative construction technique, which seamlessly incorporates support into pieces so that they can be worn without undergarments, is presented this season in shirting, t-shirts, gowns, dresses, sweaters, and even delicate tank tops.
To ensure precise and unparalleled fit, the sizing of each of these garments is sold not only according to dress size, but also cup size. Tailored suiting done in tartan and houndstooth patterns lends a compelling contrast to the collection, repurposing traditional British elements for a distinctly feminine look.
The lace in the ready-to-wear collection, with moves across the body like beautiful paint strokes, is also incorporated in the lingerie collection. All of the categories from the season flow together, with the lace detailing on wool trouser pockets repeated in delicate details on bras.
The bra becomes a focal point of the construction in the collection not only as a form of hidden support, but also as a design element. With careful intention, the bra is built into gowns, or shown as a gorgeous detail peeking out from under suiting. Innovation for Fall/Winter 2017 began with an unprecedented development: flexible stretch incorporated into traditional French lace.
Working closely with the lace makers in Calais, France, La Perla developed Leavers lace that moves and contours with the body, allowing give for all-day, everyday wear. Leavers lace was developed in the 1700s, and preserving the quality and detail of Levers lace with added stretch was a unique triumph for the La Perla team this season.
Photos by Don Ashby, courtesy of La Perla.