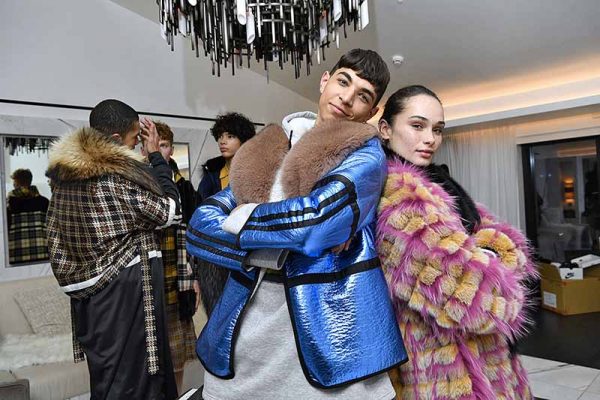 LONDON, Jan 8, 2018/ — Astrid Andersen presents her third annual bespoke collection of elevated outerwear for 2018 as a high luxury compliment to her ready-to-wear collection shown during London Fashion Week Mens. These pieces, in collaboration with Saga Furs represent the ultimate in contemporary luxury with superior attention to fabric selections and detail and the highest standards of ethics and quality.
For Astrid Andersen's AW18 Bespoke collection, Saga Furs is pleased to have provided the inspiration and technical support which helped this exciting young designer realise her concept and ideas. Astrid incorporated Saga Furs' Fox on fabric and the crafted 'air gallon' technique to make a coat, create trimming, fashion a scarf and fabricate further great fur combinations which are thoroughly modern. The pieces in her collection are exclusively created from certified Saga Fox, Finnraccoon and Mink.
As in her ready-to-wear collection Astrid Andersen remembers Buffalo-era London for Autumn/Winter 2018 and the fundamental influence it has had on her own design aesthetic. This season is a celebration of a movement that has dared her to be braver, pushed her to need to push herself and not to accept the conventional as standard. Fittingly showing during London Fashion Week Men, these references are a direct link to why London remains the home of Astrid Andersen's creativity, rooted in the street, the real and the unpretentious. A mash-up between the decadent and the rave – Astrid creates a relatable and fun approach to extravagance through the visual language synonymous with the brand.