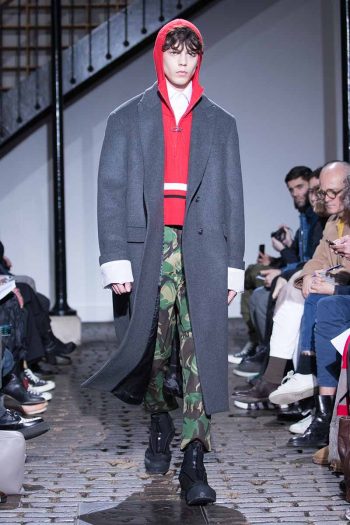 PARIS MEN'S WEEK / — The autumn winter collection from Saif Bakir and Emma Hedlund carves a modern future via it's reflective view of the past. Garments tell stories about the complexities of coming-of-age, exploring both the physical and psychological changes of adolescence.
Generously proportioned boxy silhouettes depict the oversized confidence of a teenager, whilst large shoe shapes suggest the heavy load of growing up and the expectations of having 'big shoes to fill'. Technical 90s sportswear throws back to a time of trying new things, with bright tones and graphic logos. Shirting takes inspiration from tensions between youth and adulthood – conventional business stripes are offset with jersey hoods and track collars. Trousers in familiar checks and pinstripes are disagreed with by hyper track pants in Japanese satin.
Tailoring is slim and sharp – earnest cuts are reflective of a desire to be taken seriously, with extra-long lengths and cuffs that hint at forthcoming growth. Italian made knitwear using alpaca wool mixes to create warm and textured knits. Camouflage offers refuge from questions around self-identity, and an explorative colour palette of acid yellow, lavender and red is grounded by melange grey, classic stripes and conventional checks.
The collection is accessorised by an exclusive collaboration between CMMN SWDN and Amsterdam-based eyewear specialists Ace & Tate. Extending upon the theme of retro futurism, the slimly proportioned sunglasses hint at sci-fi movies of the past but designed for now.
Photos courtesy of CMMN SWDN