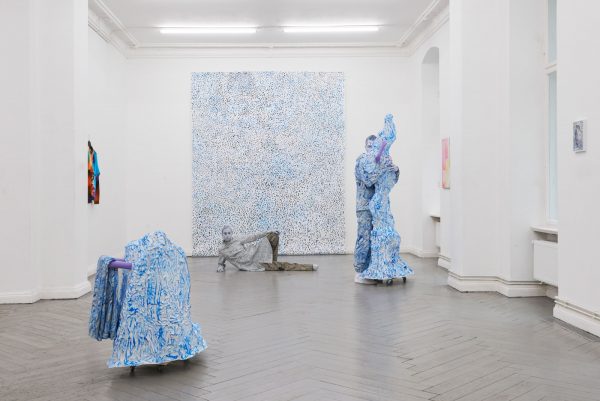 BERLIN FASHION WEEK / — Julian Zigerli presented his Spring/Summer 2018 collection during Berlin Fashion Week. "Threesome" is a collaboration with fellow Swiss artists Manon Wertebroek and Christopher Füllemann. The three have been working together since January of last year, to set up the project that was now presented in Berlin as an exhibition.
The end product can be understood as a "performative installation with a bit of fashion". Its parts have been disassembled and consist of clothing, photography and sculpture.
Berlin eyewear innovators Lunettes Kollektion and Julian Zigerli have paired up again for a special trio of intriguingly arty sunglasses made with an unusual technique — matte digital printing on the fronts and temples. The collection complements the collaborative work "THREESOME".
The Artists
About Manon:
Born in Lausanne in 1991, the Swiss/Dutch artist Manon Wertenbroek obtained her Bachelor of Arts in Photography in 2014 from ECAL (Lausanne University of Art and Design). Since graduating, Wertenbroek has been showing her work in gallery spaces from The Netherlands to Belgium, Italy to France, with appearances at Art Basel, Amsterdam's Foam Museum and Rome's Swiss Institute. Her work focuses on portraiture as a symbol and vehicle to explore questions of introspection, identity, social interaction, and emotion. In January 2017, her first solo show opened at Coalmine in Winterthur, Switzerland. The same year she was awarded a Swiss Art Award from the country's federal office of culture.
About Christopher:
Christopher Füllemann is a Swiss artist born in 1983 in Lausanne. He graduated from Lausanne University of Art and Design / ECAL in 2008 where he studied painting and video art. In 2012, Füllemann obtained a Master in Fine Arts at San Francisco Art Institute/SFAI and received the SFAI Outstanding Award in Sculpture. He was awarded with the Swiss Art Award 2011 and the Gustave Buchet Award in 2013, which included a solo show at the Musée Cantonal des Beaux-Arts in Lausanne, Switzerland. Most recently, Füllemann presented his work at Duve Berlin Gallery, for Museumsnacht Basel 2017 and is collaborating with choreographer and performer Simone Aughterlony.
About Julian Zigerli:
Born and raised in Switzerland, Julian Zigerli attended the Berlin University of the Arts. After graduating in 2010, he returned to his roots in Zurich to launch his eponymous label. Julian Zigerli stands for practical, smart and technically first-class pieces with a sporty touch. Love, colour, humour and positivity are core to the brand's ethos. The distinctive feature of this label is the way it unites extrovert prints and striking colours with comfort and wearability.
Photo credits: Darwin Stapel & Manon Wertebroek, courtesy of Julian Zigerli