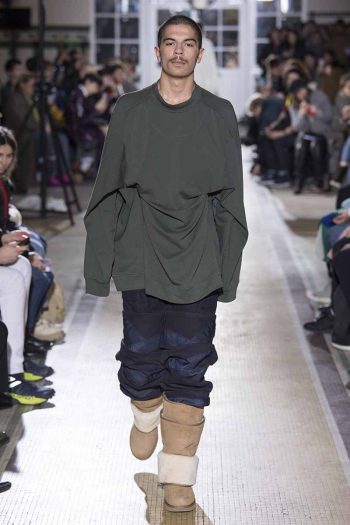 PARIS MEN'S WEEK / — For the Y/PROJECT HOMME AW18 collection, designer Glenn Martens continues his play on versatility and wearability. Pieces are designed putting an emphasis on styling possibilities, as a celebration of people and individuality. Mixing sportswear and tailoring, jersey and knitwear, and flannel with colorful fake fur, the AW18 collection works as an eclectic ensemble of garments, appealing to different crowds.
The collection carries over signature styles like the cuff jeans, double jackets and shirts, loose high-waisted trackpants, pushed further introducing new fabrics which are reworked in overstated ways. Double-panel blazers are worked into jeans and coats, pleated shoulders are exaggerated into scarves and large hoods on the sweaters, fake fur cuff jeans.
Historical references make a reapperance featured on XL knit scarves Queen Eleanor of Aquitaine and King Henry II, or Joan of England and Edward III.
UGG x Y/PROJECT CAPSULE COLLECTION
Introducing Men's footwear for the first time on the runway, Y/PROJECT collaborates with UGG reinterpreting some of the most iconic styles in a fresh and authentic way.
Glenn Martens on the collaboration:
"The UGG Classic boot is one of the most recognisable shoes in history. It's timeless and challenging design made it a worldwide statement. Y/Project is about challenges. (…) By reworking the Classic boot with a typical Y/Project twist such as the triple overlaps and the extra-long legs we want to celebrate the UGG brand's unique history."
KEY PIECES
Graphic print pullovers, sweatshirts and t-shirts are constructed together to form a unique piece; double-paneled jeans and coats with visible linings; fake fur cuff jeans; coats and blazers with oversized exposed double linings, XXL knit graphic scarves; colorful fake fur jackets; double sleeved sweater that can be worn tight or loose; sporty bright colored nylon blazers with inner zip jackets.
Photos courtesy of Y/Project