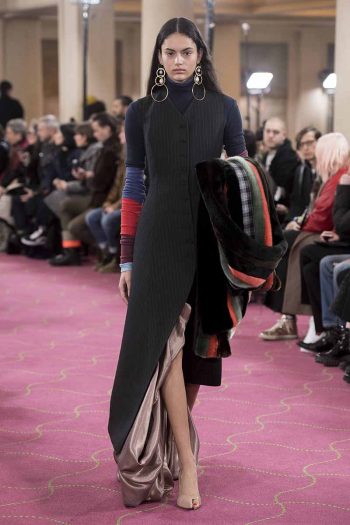 PARIS FASHION WEEK / — Glenn Martens takes his Y/PROJECT FEMME AW18 collection to the Théâtre des Champs Elysées this season, a perfect setting to feature his play on versatility and wearability. His signature style, an eclectic mix of downtown edge, preppy pop, haute couture and touches of historical references including smart tailoring with dramatic drapery. The collection works as an eclectic ensemble appealing to different women.
Concepts introduced in the men's AW18 collection and signature styles are carried over and reworked in new ways. Just like the sweaters in the men's collection, elegant silky bathrobes are sewn together, and double layered dresses, tops and knitwear can be worn fitted or loose.
The emblematic organza layers over denim jackets, dresses and shirts. The oversize slouchy boots are amplified with red tartan and seafoam velvet and the spiral sandals are coated with a patent layer.
UGG x Y/PROJECT CAPSULE COLLECTION
Y/PROJECT reveals the women's styles of their collaboration line with UGG. Some of the most iconic UGG styles are revamped into heeled mules, thigh high and knee high heeled boots.
Glenn Martens on the collaboration:
"The UGG Classic boot is one of the most recognizable shoes in history. It's timeless and challenging design made it a worldwide statement. Y/Project is about challenges. (…) By reworking the Classic boot with a typical Y/Project twist such as the triple overlaps and the extra-long legs we want to celebrate the UGG brand's unique history."
KEY PIECES
Extra large collar knit dresses – double bathrobes sewn together to form a unique piece – coats and blazers with exposed faux-fur or silky drapy lining – double layered dresses and tops that can be worn fitted or loose – organza layered jacket, shirt and jeans – jersey sweaters tied around the neck with a silk scarf, forming a "col fraisé" – tartan and velvet seafoam thigh high slouchy boots – red velvet fringed spiral boots – vinyl and faux leather quilted knee high boots – spiral pearl earrings and bracelets.