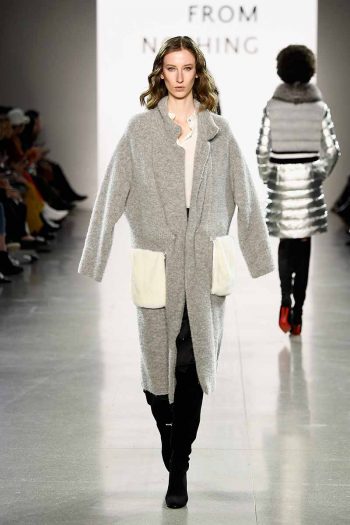 NEW YORK FASHION WEEK/ — The brainchild of Eva Xu, the label All Comes From Nothing (ACFN) came from a desire to create a more personal women's wear line for creative lifestyles. And for Fall 2018, Xu sent out puffer coats, lots of red, metallics, geometric shapes and velvet on the catwalk to delight of career women who like to look good in the office but don't want the power suit to be their whole wardrobe.
The accessories de rigueur are the COOME bags that make a statement by themselves yet blends quite nicely with the avant-garde feel of ACFN.
Titled, "Love is the Only Gold," the collection is a tribute to Gustav Klimt whose work "Woman in Gold" (Portrait of Adele) inspired the collection. Gustav Klimt's bold golden tone emulating modern beauty, the Art- Deco style dress and kaleidoscopic prints amazed Xu. She was struck by the Greek gods who under Gustav's brush, who not only looked like, but also behaved as modern gents and ladies, full of emotion.
Eva Xu graduated from School of the Art Institute of Chicago with a MFA degree. She soon moved to New York working for Michael Kors and later Ralph Lauren for 5 years. In 2014, Xu founded ALL COMES FROM NOTHING.
ACFN was selected from 6000 brands in Capsule and named Art World Uniform. In September 2016, ALL COMES FROM NOTHING premiered its first runway show with the SS17 collection on the Intrepid, Museum of Air and Sea. In 2017, Xu was selected by NYCEDC and FIT as one of the 25 design entrepreneurs that received mentorship from presidents and CEOs of G-3 group and LVMH.
Photos courtesy of All Comes From Nothing