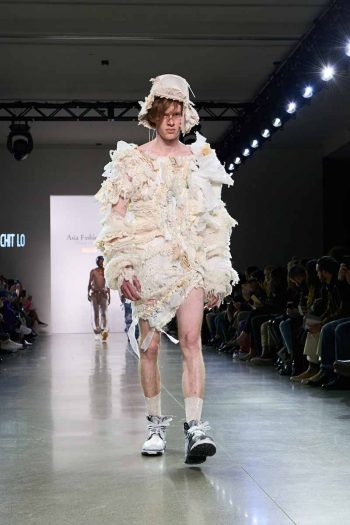 NEW YORK FASHION WEEK/ — The Asia Fashion Collection made its fifth annual #NYFW runway show. It's purpose – to discover and nurture young designers who are from Asia.
Organized by Vantan Inc. and PARCO Co., LTD., AFC debuted February 10, 2018 at NYFW showing both menswear and womenswear.
Seven brands revealed their collections during the runway show. All of the brands and designers are from Asian countries.
1) Fumiku by Fumika Hayashi – Japan
2) KA WA KEY by Key Chow and Jarno Leppanen – Hong Kong
3) épi á la mode by Miho Tsutsumi – Japan
4) shen yao by Shen Yao Huang – Taiwan
5) VLEEDA by Daeun Lee – South Korea
6) CHAN CHIT LO by Venus Lo – Parsons School of Design (originally from Hong Kong)
7) AH by Aoi Wanaka & Hyowon Lee – Japan
Over 360 guests arrived consisting of press and buyers from all around the world attended the show and applauded each up incoming designer from Asia.
The Asia Fashion Collection (AFC) is an incubation project produced and supported by Vantan Inc. and PARCO, in cooperation with other Asia-based partners. AFC is passionate about widening the reach of the fashion industry by fostering the growth of the continent's most promising up-and-coming designers.
Fumiku by Fumika Hayashi – Japan
KA WA KEY by Key Chow and Jarno Leppanen – Hong Kong
épi á la mode by Miho Tsutsumi – Japan
shen yao by Shen Yao Huang – Taiwan
VLEEDA by Daeun Lee – South Korea
CHAN CHIT LO by Venus Lo – Parsons School of Design (originally from Hong Kong)
AH by Aoi Wanaka & Hyowon Lee – Japan