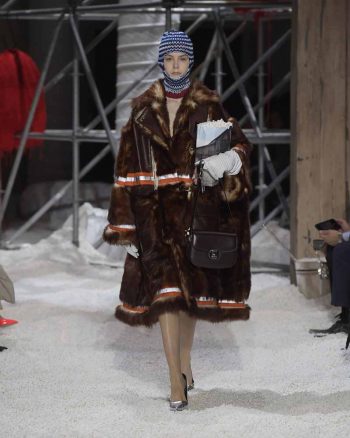 NEW YORK FASHION WEEK/ — "This collection is an evolution of my idea of CALVIN KLEIN – of a view onto American society – but now wider, universal. It's an allegory for a meeting of old worlds and new worlds, relating to the discovery of America, the 1960s Space Race, and the twenty-first century information age," wrote Raf Simons, Chief Creative Officer of Calvin Klein on the press notes.
Titled LANDSCAPES, the Fall 2018 CALVIN KLEIN 205W39NYC show was staged in an epic and unreal terrain simultaneously recalling a cinematic soundstage. The backdrop draws on CALVIN KLEIN'S recent history, but reconfigured: fragments of Sterling Ruby's installations for the brand appeared against parts of the nineteenth century prairie barn featured in the CALVIN KLEIN 205W39NYC Spring 2018 campaign.
The barn walls are papered with billboard-scale images of the artworks by Andy Warhol used in the same collection; beside them, air-duct tubing emerges, an alien touch of the scientific or laboratorial. The floor is carpeted with deep drifts of popcorn: from a distance, it resembles snow.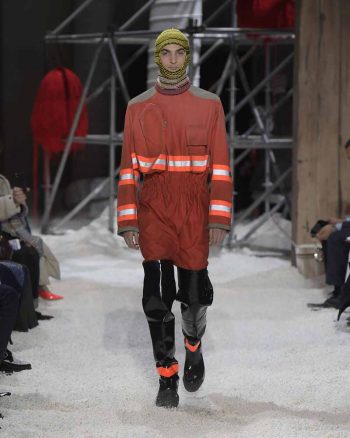 Simons, who made his name for intellectual dressing and at times high concept when he launched his own label, added in his press notes, "Reflecting the notion of democracy, there is no cultural hierarchy: the mixes emancipate clothing and references from their meanings, from their own narratives, and collage them to discover something different – a different dream. More than anything else, this collection is about freedom. A word that defines America, and CALVIN KLEIN."
The collection and venue showcased the ongoing and multi-level collaboration between CALVIN KLEIN and The Andy Warhol Foundation for the Visual Arts. Warner Bros.' Looney Tunes characters Wile E. Coyote and Road Runner, originally shown as shorts in cinemas from 1949, are also featured on select garments. The latter recall childhood innocence, the all-important idea of American Youth, and they can also be seen as a parable of the pursuit of the American Dream.
Mr. Simons presented his Fall 2018 collection to an audience that included notable guests Nicole Kidman, Lupita Nyong'o, Isabelle Huppert, Margot Robbie, Millie Bobby Brown, A$AP Rocky, Laura Dern, Chadwick Boseman, Michael B. Jordan, Letitia Wright, Sebastian Stan, Bill Skarsgård, Lucas Hedges, Judith Light, Kyle MacLachlan, James Murphy, Sandy Brant, Cindy Sherman, Kelela, Dev Hynes, Christina Ricci, Harris Dickinson, Ashton Sanders, Alex Hibbert, Rowan Blanchard, Amandla Stenberg, Anya Taylor Joy, Rachel Brosnahan, Alfie Allen, Bernard Sumner, Dane DeHaan, Paris Jackson, Maya Hawke, Jack Kilmer, Julia Garner, Sergei Polunin, Annabelle Sciorra, Valeria Bilello, Natasha Dupeyrón, Cindy Crawford, Rande Gerber, Karlie Kloss, Carolyn Murphy, Helena Christensen, Winnie Harlow, Jelly Lin, Jessica Jung, Camila Coelho, Helena Bordon, Brian Anderson, Helena Hauff, Richie Hawtin, and Clara3000, as well as key editors, stylists, retailers and influencers.
EDITORIAL CREDIT: CALVIN KLEIN 205W39NYC
ART CREDITS:
Artwork by Andy Warhol featured on garments ©/®/™ The Andy Warhol Foundation for the Visual Arts, Inc.; Looney Tunes and all related characters and elements © & ™ Warner Bros. Entertainment Inc.
IMAGE CREDIT – RUNWAY LOOKS: © 2018 Giovanni Giannoni