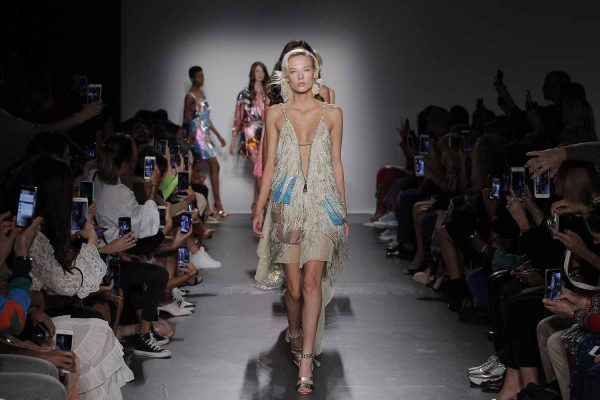 Described as "showing off its nocturnal side," Custo Barcelona proposed a collection that is best worn from dusk till dawn. Appropriately titled "Aftersun," the collection is meant to be worn during summer nights when you are ready for fun.
Designed for the confident woman who knows who she is and who values her individuality, the collection is a toast to the most playful times of summer. Mini dresses with countless sparkles, bodysuits in technical fabrics, jackets with holographic fabrics and silks, and fringed macro coats with iridescent glitter dominate the collection.
"Experimentation and comfort are combined to create a unique and eminently nocturnal wardrobe with unprecedented volumes and lines," says the press notes. That said, designer Custo Dalmau created intricate pieces with patchwork pockets that blend fabrics of different weights and qualities and a wide range of colors and textures, showing the label's unmistakable hallmark.
The palette features metallic pinks, neon fuchsias, metallics such as copper, gold, and silver, and blue in all its varieties mixed with a touch of black and white, all with a distinctive brightness adorning skin that wants to be seen. The effect is complete with high-heeled sandals designed to match each dress.
Photos courtesy of Custo Barcelona