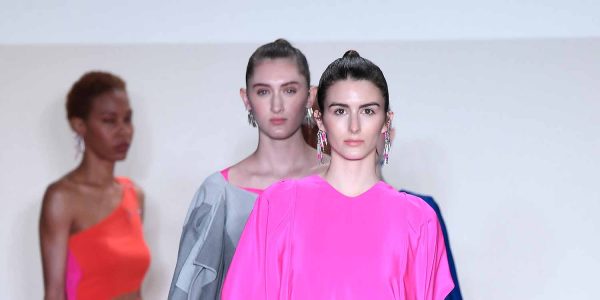 NEW YORK FASHION WEEK / — Caroline Ann, a U.S designer from Atlanta, drew inspiration from fond childhood memories. The concepts of time and nostalgia have informed the clothes, exploring summer days spent at the beach.
A collection geared towards the mild winters of the southern US with a fun touch of summer, we saw a vibrant palette of jewel pink, bold blue, and orange in light loose dresses and two pieces. Clever cutting and layering allows for pops of bright colour meshed with muted greys and an accent of print.
Soft ruffles are inspired by the natural texture of sand dunes after being blown in the wind, and embellishments to suggest the sparkle of crushed up seashells are strategically placed throughout.
The Caroline Ann Fall 2018 collection was shown under the banner of the Global Fashion Collective at New York Fashion Week on Thursday, the 8th of February 2018. Meant to showcase the work of cutting-edge designer, their experimental F/W 18 collections create powerful messages by the influence of personal and artistic expression. 'Conceptual Artistry' is an avant-garde selection of conceptual work with an haute couture feel.