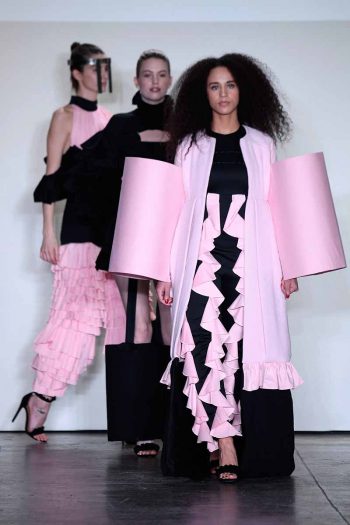 NEW YORK FASHION WEEK / — Arguably one of the most creative collections presented at Global Fashion Collective, Kim Tiziana Rottmüller's BITTERSWEET collection is a fusion of the concepts "Prison" and "Barbie." Provocative yet playful, feminine yet challenging the status quo.
The designs are an artistic interpretation of a person wishing to break free from mental constriction, looking to the invisible prisons that exist only in people's minds. Volume and shape have influenced the designs, with oversized cylinders adorning the sleeves and an iron skirt representing the cage.
A collection with impact, there was dramatic contrast in the large solid shapes and soft knitted textures. A minimal colour combination of black and pale pink symbolizes the aspects bitter and sweet.
The Kim Tiziana Rottmulle Fall 2018 collection was shown under the banner of the Global Fashion Collective at New York Fashion Week on Thursday, the 8th of February 2018. Meant to showcase the work of cutting-edge designer, their experimental F/W 18 collections create powerful messages by the influence of personal and artistic expression. 'Conceptual Artistry' is an avant-garde selection of conceptual work with an haute couture feel.
Photos courtesy of Global Fashion Collective