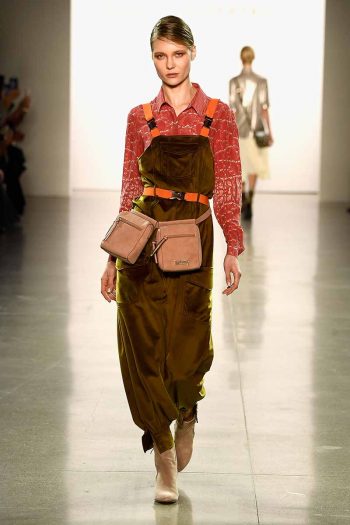 NEW YORK FASHION WEEK / — German based fashion brand named for the designer himself, Marcel Ostertag, has returned for his fifth season as part of New York Fashion Week (NYFW) to unveil Autumn/Winter 2018. The collection, named 'Opium', walked the Spring Studios Runway (Gallery II) on Wednesday, February 14th, 2018.
Ostertag sends us on a blissful journey for all the senses with his new collection. The designer is on a journey where time and fashion unite and consumption and indulgence equate as one. Additionally, past and future meld with the here and now making vintage seem futuristic and classics seem edgy.
A self confessed "addict of fashion" and everything that goes with it, Marcel Ostertag celebrates his addiction with every piece of clothing he sends down the Runway. His strain of addiction leaves no detail un-obsessed. No material is left unfelt and he openly admits to "letting his fabrics run through his fingers" as a necessary part of his creative process. Here, you can simply feel that Ostertag does not regard fashion as a profession, but rather as his life's calling.
Autumn/Winter '18 began as an exploration of Yves Saint Laurent (YSL) in the '70's, as Ostertag came across an editorial in a vintage magazine store. The glamorous parties of the era offered the perfect springboard to the collection that walked the runway this afternoon. "Opium", the moniker for A/W 2018, pays homage to YSL´s lush layered scent.
Made in Germany, precious materials and elaborate details perfectly round off the modern silhouette. Painted poppy flowers, animal prints and striped patterns are perfectly fused by Marcel Ostertag into his classics, giving them a masterful revitalization. Highlighted fabrications include silk, cashmere, faux fur, sequined and pearl beaded chiffons. Silhouettes, while suggesting the past with 60's and 70's inspired wraps, go-go's and mod-dresses of every sort have been updated by his deft approach to detail and styling to rest squarely in the here and now.
Key accessories featured are sporty belts with rose gold clasps and a new range of bags all made in partnership with Tamaris with whom Ostertag is now entering his third season of footwear design. All of the shoes are made of leather in burgundy, pastel pink, khaki, and navy with rose gold details and a range of plexi heels.
The brand's styling team included makeup artistry by NYX and hair looks created by REDKEN. Other noteworthy collaborations on this show include DHL, FALKE and strickchic, but none were more important than the musical collaboration with the designer's brother, Johann Ostertag, who once again created the track for the runway show.
Photos courtesy of Marcel Ostertag