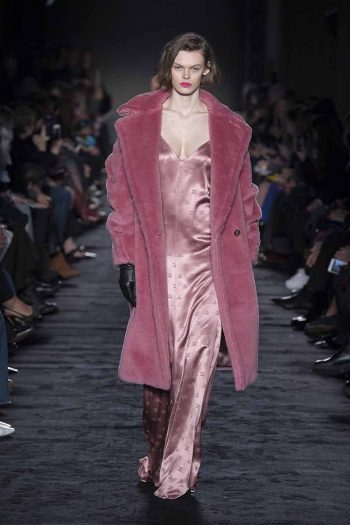 MILAN FASHION WEEK/ — 1/3 Boardroom Exec, 1/3 Husky Songbird, 1/3 Screen Siren, that's how Max Mara sees the woman of today.
After all, there are women who run Fortune 500 companies like Mary Teresa Barra, CEO of General Motors. Then there's Adele and Taylor Swift topping the charts. And of course, Jennifer Lawrence, highest paid female actress who gets your attention on and off the silver screen.
Like these women who are household names, the Max Mara woman demands success on her own terms and dresses accordingly. Her don't-mess-with-me coat and those tough looking leather suspenders hanging from her waistband are a declaration that our heroine is in a determined and defiant mood.
Classic doesn't have to be conservative. Max Mara serves it up with a feline attitude, a little gothic grit and a big splash of bombshell glamour. Everything is redefined; tailored Teddies and voluptuous drapes; leopard spots and Prince-de-Galles; fringes and fishtails; duffel coats and diamante; maverick camel and radical pink.
Mean looking stilettoes, catlike eyewear and a new take on the handbag to wear diva style are the accessories de rigueur. T-shirts featuring graphics dedicated to Max Mara by the legendary artist François Berthoud dominate.
Max Mara's recalibrates the canons of style to sync with "l'air du temps"; for 2018 Max Mara proposes a chic new mix that's one part boardroom exec, one part husky songbird, and one part screen siren.
Photos by Indigital Italia, courtesy of Max Mara