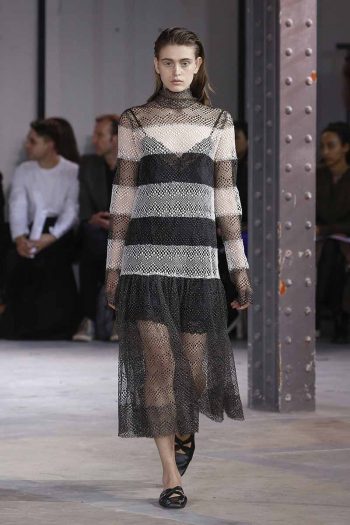 PARIS FASHION WEEK / — Opening a new chapter, designer Anaïs Mak for Fall-Winter 2018 staged a runway show for the first time official PFW calendar.
Showing in the basement of the impressive Le Centorial's building, the collection – newly rebranded as Anaïs Jourden – takes the house's formal feminine codes into more subversive territories.
In a creative approach based on the recontextualisation of looks of the ladies-who-lunch genre, the silhouettes are injected with a refreshing dose of dark romance and touches of fetishism.
Richly textured fil coupé fabrics are used to cut and trim the large contours and pockets of tweed jackets and coats, bringing a slightly destroyed look to the generic French bourgeois uniform.
Sexy contrasts are at play, as in the open-back cotton shirt tops with exaggerated pussy bow collars, or in the revealing cycling shorts in pointillist lace that veil the skin like a fishnet.
Perverting our perception, a romantic looking baby pink or black crushed velvet serves as an intriguing and playful counterpoint to the more solid pieces in the collection.
The boxy double-breasted suit jackets and long lean trousers are enlightened with a new desirability, strongly confirming last season's foray into tailoring.
Taking the codes of traditional formal luxury and nudging them into trashier terrain to provoke a new desirability.